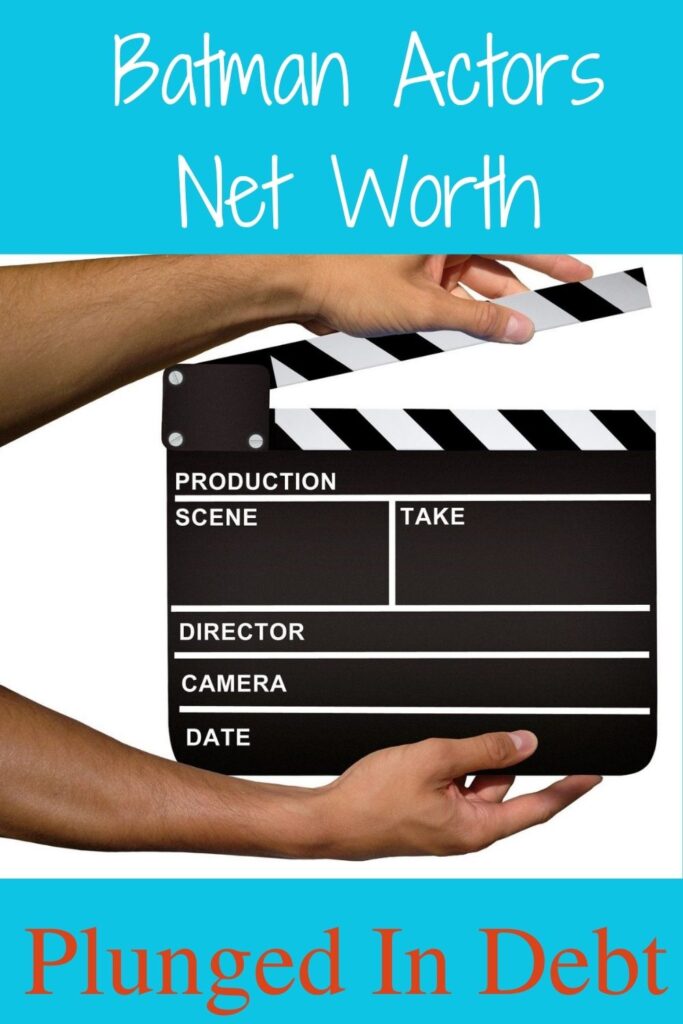 Batman is a coveted role. How many actors have played this role? More than a dozen, depending on how you're counting. As such a huge role, it lends itself to the potential for making a lot of money. So, what is the actors who played Batman networth?
How Many People Have Played Batman?
When you ask how many actors have played the role of Batman, you really have to qualify the question. Are we talking about playing the role just in the movies? Or are we also counting television roles? And what about voice actors for the animated Batman versions? Do those count as well?
Deadline lists eight big screen Batman actors
MovieWeb ranks "every actor who every who played Batman" for a total of ten
US Magazine lists 15 different Batman actors on the big and small screens
As we explore the actors who played Batman networth, we'll go ahead and use the big list of 15 actors from US Magazine. For our sources, we'll start with The Richest, which ranks the top 7 actors who played Batman by what they are worth. And then we'll explore the others.
T0p 7 Richest Actors Who Played Batman
According to The richest, the top seven on the list of actors who played Batman by networth are:
1. George Clooney: $500 Million Net Worth
George Clooney isn't considered one of the best Batman actors. In fact, many have said he might be the worst. And of all of the things he's done in his career, Batman certainly wasn't one of his best roles. Nevertheless, he's the richest actor to have ever played the part. According to The Richest, he's worth $500 million. He earned $1 million for his role as Batman in 1997.
2. Ben Affleck: $150 Million Net Worth
If you're a huge DC superheroes fan, then you certainly watched "Batman v Superman: Dawn of Justice." This was the film in which Ben Affleck played the role. He reportedly earned somewhere between $10 and $2o million for the part. The film itself earned $330 million at the box office. He was also in "The Justice League" the following year. He was considered for a starring "Batman" solo role but turned down the opportunity, according to US Magazine. Combined with all of his other roles and endeavors, Ben Affleck is the second highest net worth Batman actor at $150 million.
3. Christian Bale: $120 Million Net Worth
Christian Bale is one of the most famous Batman actors. And a nice chunk of his $120 million net worth comes from the role. That's because he's the only actor to play the role three times. He received $10 million for "Batman Begins", $20 minion for "The Dark Knight" and another $15 million for "The Dark Knight Rises."
4. Robert Pattinson: $100 Million Net Worth
He's the newest Batman actor, taking on the role in the Matt Reeves version of the film that was just released in March 2022. He reportedly earned about $3 million for that role. The film did well; second largest at the box office so far this year. And it's been confirmed that he'll be starring in the sequel. So, perhaps he'll grow that $100 million net worth in the years to come.
5. Michael Keaton: $40 Million
He might not be the richest Batman of all time, but he's probably the most famous for the role. He's often considered the first big screen Batman ever.  (We'll discuss that in a minute.) If you love The Batman of the 1980s, you love Michael Keaton. He was also in 1992's "Batman Returns. For those films, he reportedly earned $5 million and $10 million respectively, which equates to about twice that in today's money according to The Richest. He was also in lots of other great 80's film so it's kind of surprising that he's worth less than half of the most recent Batman's net worth!
6. Val Kilmer: $25 Million
It had to be hard to follow the first, Michael Keaton, in the big screen role of Batman. However, Val Kilmer arguably succeeded in that role. He starred in 1995's "Batman Forever." It grossed $184 million at the box office. He received $7 million for the role. Thanks to his other films and work, his net worth is about $25 million.
7. Adam West: $8 Million
Many people think of Michael Keaton as the first big screen Batman. However, in 1966, there was a Batman movie, and the star was Adam West. He reportedly earned $100,000 for the role. That wasn't his biggest Batman role, though. He's better known, actually, as the star of the 1960s Batman television show. If you grew up in the 1980s, you probably caught the re-runs. And if you're a huge Batman fan, then you might have recognized his voice as Batman in many of the animated series, including two for the 50th anniversary of the original show, just before his death in 2017. His net worth is listed as $8 million. Was he really the first big screen Batman though? Scroll down for more …
8 Other Actors Who Played Batman Networth
Here are the other eight actors that US Magazine includes on their comprehensive list of the 15 actors who have played Batman. Their net worth is sourced from popular sites including Celebrity Net Worth and The Richest.
1. Will Arnett: $35 Million
Did you know that he played Batman? Well, technically he played the voice of Batman. And you might know that if you watched the "Lego" movie franchise. He was in the first one in 2014, the second one in 2019. And, perhaps most interesting to Batman fans, he was in his own spinoff in between those two: 2017's "The Lego Batman Movie."
2. Iain Glen: $3 Million
You probably know this actor much better from "The Game of Thrones." However, if you watched "Titans" on HBO Max, then you might recall that it had an older Batman than most versions. He showed up in the second season of the show … and Iain Glen was the actor who played him.
3. David Mazouz: ~ $1 Million
One of the most popular recent television versions of Batman was "Gotham," which ran for five years on Fox, ending in 2019. Mazouz played a young version of the superhero in this show. Note that his net worth was not noted on major reputable sites, but the Internet overall places it around $1 million.
4. Kevin Conroy: $1o Million
When you think of the voice of Batman, you might have Kevin Conroy in mind. US Magazine points out that he started out in the early nineties voicing "Batman: The Animated Series" and has spent nearly thirty years playing the role off and on in various spinoffs. While he's mostly been a voice, he appeared in the role on TV in CW's "Batwoman" series.
5. Warren Christie: $6 Million
Conroy wasn't the only Batman in "Batwoman." Warren Christie also played the role at times.
6. Diedrich Bader: $6 Million
Don't feel badly if you don't recognize all of these names. You have to be a fan of voice actors to catch them all. In this case, the actor was Batman's voice from 2008-2011 in "Batman: The Brace & The Bold."
7. Lewis Wilson: $850,000
Okay, so some people think of Michael Keaton as the first Batman. Others say that it was Adam West. But if you look at US Magazine's timeline, you'll see that Lewis Wilson played the role in 1943. He was not only the first actor to do so but the youngest at just 23.
8. Robert Lowery: $1 – $5 Million (??)
By US Magazine's list, Lowery was the second actor to play big screen Batman in 1949's "The New Adventures of Batman & Robin." Note that there aren't any specific reputable sources for his net worth. The Richest lists it as unavailable. Sources online range from $1 million to $14 million, though the later seems unlikely. Many sources say "between $1 and $5 million, so we have listed that.)
Total Actors Who Played Batman Networth
So what is the total actors who played Batman networth? Well, we have to remember that the numbers given above relate to the time period in which the actors were working and earning money. Michael Keaton was a huge Batman and yet is worth less than more recent Batman's because $5 million for a role then was less than $5 million today. That said, here are some numbers using the above information:
Total net worth of all 15 Batmans above: over $1 billion
Media net worth of all 15 Batmans above: $66.7 million
Total net worth of The Richest's 7 Batmans: $943 million
Media net worth of The Richest's 7 Batmans: $134.7 million
Note: we used the lower end, $1 million, of Lowery's estimated range when calculating these.
Read More:

Kathryn Vercillo is a professional writer who loves to live a balanced life. She appreciates a good work-life balance. She enjoys balance in her relationships and has worked hard to learn how to balance her finances to allow for a balanced life overall. Although she's only blonde some of the time, she's always striving for total balance. She's excited to share what she's learned with you and to discover more together along the way. Learn more about her at www.kathrynvercillo.com.