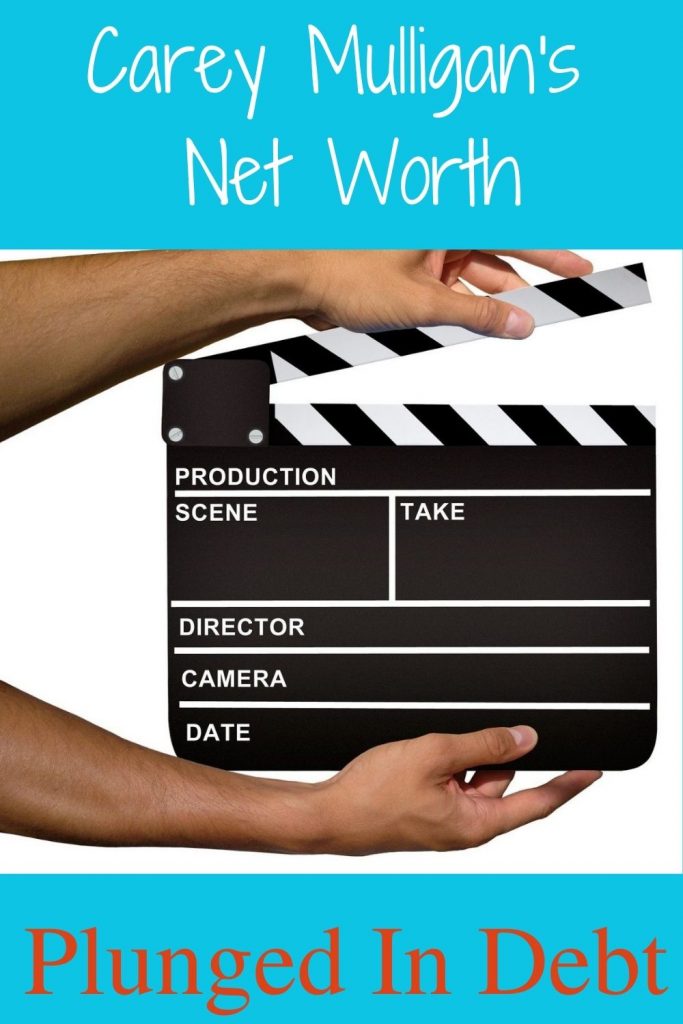 Are you a fan of Carey Mulligan? She's a beautiful and talented British actress known for both film and television roles. As the New York Times reports, it often seems like she's slotted only into period pieces. However, she's also proven her talent in contemporary roles. Some of the films she's been in have done astoundingly at the box office. Which, of course, makes us wonder: What is Carey Mulligan's net worth?
Who Is Carey Mulligan?
According to her IMDB biography, Carey Miulligan was born in Westminster, London in 1985. She has Welsh, English, and Irish ancestry. Her parents are a hotel manager and a university lecturer. She appears to have one sibling, a brother.
Carey Mulligan did theater acting when she was in school. She was a student head of drama and performed in "Sweet Charity." Obviously, she knew that acting was something that interested her. Mulligan received her first breakout film role in 2005 when she played Kitty in "Pride and Prejudice." IMDB says she scored that Rolle when Julian Fellowes came to speak at her school. She was bold enough to introduce herself. He, in turn, introduced her to a casting assistant that was at work on "Pride and Prejudice." The rest is history.
Carey Mulligan's Acting Credits
Once Mulligan did well in that role, she began to land many other roles. She's what film or TV appearances almost every year since, with a few exceptions. As aforementioned, she's typically cast in period pieces. However, when New York Times asked her if she felt typecast, she said that more than anything she feels like the writers of contemporary movies don't often create the kind of complex female roles she enjoys playing. So it's a little of this and a little of that.
Carey Mulligan's Top Films
Vogue lists 13 films that they think showcase just how amazingly talented Carey Mulligan is. Of course, they start with "Pride and Prejudice." The other dozen are:
2009's "An Education"
2010's "Never Let Me Go"
2011's "Drive"
2011's "Shame" (one of her few films set in modern times)
2013's "The Great Gatsby"
2013's "Inside Llewyn Davis"
2015's "Far From the Maddening Crowd"
2015's "Suffragette"
2017's "Mudbound"
2018's "Wildlife"
2020's "Promising Young Woman"
2021's "The Dig"
"Promising Young Woman" Controversy
We can't go any further without talking about the film "Promising Young Woman." Because, if you weren't familiar with Carey Mulligan before this film, chances are you might have heard about her after it. The film is about a woman spiraling into revenge darkness in an era of toxic masculinity. Basically, after secondary trauma from a friend's college rape, her life ends up going off the rails. During this process, she decides to go to bars feign drunkenness, see if men will attempt to take advantage of her, and then exact revenge on them when they do. It's a rich role with a lot of intensity. And it's a role that addresses a lot of major issues in our culture today.
When it premiered at Sundance in 2017, Variety wrote a piece about it. And the piece basically said, "well, she did a good job. She's talented. However, she's really not pretty enough to play this role." Mulligan has been very outspoken about this experience. She's also opened up about different ways that the Hollywood industry continues to perpetuate sexism upon women of all ages, even in the age of awareness about #MeToo. In the New York Times article, she emphasizes how many times she's read a script that describes the female as "beautiful but doesn't know it," and how minimizing and degrading that can be.
So, as we can see, Carey Mulligan is an actress who has a lot of talent, for both period pieces and contemporary roles. In particular, she's strong at playing complex women in challenging situations, both historically and in modern times. Moreover, she's become a strong woman in her thirties speaking out for herself and other women about what she sees as problematic in the industry.
Carey Mulligan's TV Roles
We can't talk about Carey Mulligan's net worth without also mentioning her roles on a number of different TV shows over the years. These include:
Ada in 2005's "Bleak House"
Emily Pritchard in 2006's "The Amazing Mrs. Pritchard"
Sunny in 2015's "The Walker"
DI Kip Glaspie in 2018's "Collateral"
She's also appeared in one or two episodes of "Marple," "Waking the Dead," "Trial & Retribution," and other shows.
Carey Mulligan's Recent Work
As aforementioned, Vogue named her 2021 film "The Dig" among her top films. And "Promising Young Woman" came out just the year before. IMDB also lists her for four additional films for 2022:
"Spaceman" which is in post-production
"She Said" which is currently filming
"Maestro" which is pre-production
"Fingernails" which is recently announced
So, with all of that coming up, we can expect Carey Mulligan's net worth is only going to rise.
Carey Mulligan's Personal Life
Before we get into Carey Mulligan's net worth, let's just talk a small bit more about her personal life. According to IMDB, she was childhood pen pals Marcus Mumford. He would go on to become well known for the band Mumford & Sons. And they would reconnect as adults and marry. Once they reconnected, they were engaged for less than a year before marrying in 2012. They had a daughter three years later and a son two years after that.
One of her grandparents died before she was born. Two others die din the early 1990's when she was just a young child. Her remaining grandparent, her maternal grandmother, lived until 2017. However, she developed Alzheimer's in 2020. As a result, Mulligan serves as an ambassador for the Alzheimer's Society.
What Is Carey Mulligan's Net Worth?
So really she's an interesting person and a talented actress, right? But what is Carey Mulligan's net worth? Various sources such as Celebrity Net Worth place Carey Mulligan's net worth at about $16 million. StyleCaster notes that she's starred in some huge-grossing films. For example, "The Great Gatsby" earned over $350 million. Her first big film, "Pride and Prejudice" earned over $125 million. Of course, celebrity net worth doesn't always correlate with box office earnings. But with her career continuing to soar, we expect Carey Mulligan's net worth will likely continue to rise as well.

Kathryn Vercillo is a professional writer who loves to live a balanced life. She appreciates a good work-life balance. She enjoys balance in her relationships and has worked hard to learn how to balance her finances to allow for a balanced life overall. Although she's only blonde some of the time, she's always striving for total balance. She's excited to share what she's learned with you and to discover more together along the way. Learn more about her at www.kathrynvercillo.com.