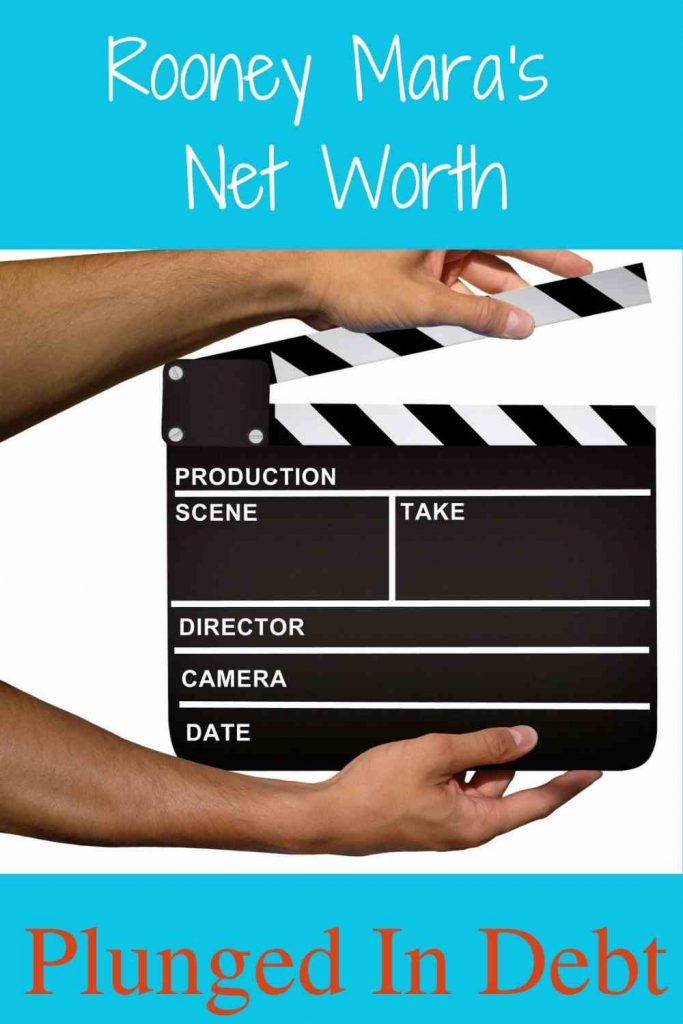 Rooney Mara is a really interesting actress and an even more interesting person. She's known for her philanthropy. She's also known for her engagement to actor Joaquin Phoenix, with whom she has a son. Plus, of course, she's known for her films, which include Oscar nominees for her roles in "The Girl with the Dragon Tattoo" and "Carol." So what is Rooney Mara's net worth?
Who Is Rooney Mara?
According to her IMDB bio, she was born Patricia Rooney Mara in April 1985 in New York. Her family has some well-known people in it. Many are known in the world of sports. For example, her great-grandpa Art Rooney founded the Pittsburgh Steelers. Her grandfather Wellington Mara co-owns The Giants. But her family has made waves in other areas as well. Her grand-uncle Dan Rooney was an Ambassador to Ireland. Cousins Tom and Patric Rooney are US and state representatives respectively. Her sister Kate Mara, two years older than Rooney, is an actress. In fact, seeing her acting career is what inspired Rooney to try acting,
Rooney Mara's Many Interests
Although she did obviously end up pursing an acting career, Rooney Mara wasn't sure that she could develop a good net worth in this field. She considered a lot of other options. Right after high school she spent four months traveling in South America to learn more about the world. Then she went to college, getting a degree in international social policy psychology and nonprofit organizations from New York University. She graduated in 2010. However, she had already started to pursue acting while in college.
Rooney Mara's Acting Career
Obviously, Rooney Mara's net worth now comes from her acting career. She began auditioning when she was about 19, and she was immediately a hit. In her earliest movies, she went by the names Patricia Mara or Tricia Mara. However, after a few years she started going by her middle name instead. In 2005, she appeared alongside her sister in "Urban Legends: Bloody Mary", thus launching her acting career. Over the next few years she appeared on TV episodes for series including "Law and Order: SVU," "Women's Murder Club," "The Cleaner," and "ER."
In 2007 she auditioned for a supporting role in the film "Tanner Hall." However, the director fell in love with her and asked her to re-audition, this time for the lead. She was cast in the lead and the movie came out in 2009. She received several awards for that role. In 201o, she was cast as the lead in "A Nightmare on Elm Street." Credits following that role include:
"The Social Network" in 2010
"The Girl With The Dragon Tattoo" in 2011
"Side Effects" and "Her" in 2013
"Carol" in 2015
3 films plus a voice role in 2016 (the voice role was for "Kubo and the Two Strings"
"Mary Magdalene" in 2018
"Nightmare Alley" which is a 2021 release
"Women Talking" which is in post-production for a 2022 release
Rooney Mara's Awards
Rooney Mara's net worth isn't directly tied to her awards. But, of course, the more recognized an actress is, the higher rates she gets paid. IMDB reports that in addition to her two Oscar nominees mentioned above, she has 65 nominations and 27 wins from a variety of different awards organizations. A handful of her winning awards include:
AACTA International Awards Best Supporting Actress for "Carol." She also received several other awards for this role including Best Actress from the Cannes Film Festival.
Alliance of Women Film Journalists Kick Ass Award for Best Female Action Star for "Girl With the Dragon Tattoo". She also received the Golden Schmoes Awards for Best Actress of the Year for this film.
Gen Art Film Festival Emerging Actress Award for "Tanner Hall"
In 2013, she received the LA Femme International Film Festival Best Feature Director award for "The Truth About Emanuel." That's right; she's done some directing as well.
Rooney Mara's Personal Life
We've discussed her family of origin, but now let's talk about her adult personal life. She dated producer / director Charlie McDowell for about 6 years ending in 2016. While they were dating, she met Joaquin Phoenix on the set of "Her." However, it wasn't until 2018 that they began to spend a lot of time together. According to Celebrity Net Worth, they worked together that year on the sets of "Mary Magdalene" and "Don't Worry, He Won't Get Far on Foot," as well as on the animal rights documentary titled "Dominion."
The two bgan dating and soon after got engaged, although so far it doesn't seem that a marriage has taken place. They did, however, have their first son in September 2020. They named him River in honor of Joaquin's well-known actor brother who died of a drug overdose outside The Viper Room in his early twenties.
Rooney Mara's Global Concerns
Both Mara and Phoenix are longtime vegetarian/vegans. They'll educate River about the same but will allow him to make his own choices when it comes to food. Mara is quoted in Vanity Fair as saying that having River has made her even more concerned about the world, adding, "I feel so fortunate to be able to nurture my son in all of the ways that nature intended and I wish all mothers in the animal kingdom could experience that sacred maternal bond with their young, devoid of exploitation by humans."
Mara's family has long been known for various philanthropic efforts. For her part, her IMDB profile reports that she founded Faces of Kibera. After all, although Rooney Mara's net worth comes from her acting, we know that her education is in non-profit organization. Faces of Kibera provides a variety off care to orphans living in the Kibra district of Kenya, Nairobi.
Some off Rooney Mara's net worth also comes from a vegan clothing line she started called Hiraeth Collective. Although it's for-profit, it's obviously animal-conscious. She launched this business in 2018.
Rooney Mara's Net Worth
So, Rooney Mara makes her money off of her films and her vegan clothing line. She also likely has family money. The Things reports that she and her sister Kate are heirs to "two multi-billion dollar NFL dynasties."
Since she and Joaquin Phoenix are not married, they do not share net worth. So what is Rooney Mara's net worth? Celebrity Net Worth places it at $16 million. The Things reports that combined with her sister, they have a net worth of $26 million. However, when you combine their whole family together, their net worth climbs to a whopping $3 billion. Of course that's spread out with their two brothers, more than 20 aunts and uncles, 40+ cousins, etc.
Read More:

Kathryn Vercillo is a professional writer who loves to live a balanced life. She appreciates a good work-life balance. She enjoys balance in her relationships and has worked hard to learn how to balance her finances to allow for a balanced life overall. Although she's only blonde some of the time, she's always striving for total balance. She's excited to share what she's learned with you and to discover more together along the way. Learn more about her at www.kathrynvercillo.com.