Not everyone becomes a celebrity through landing a record deal or television role. There are a number of celebrity investors that claimed their way to fame by making wise investments. Here's what they're invested in…
Nas: $60 Million
Photo: Flickr: Erik Charlton
Nasir Jones, better known as his stage name, Nas, has made a bulk of his $60 million net worth through his music career. However, many people don't know Nas is also an avid investor. On top of his rapping career, he has made investments in numerous startups, including Coinbase, Dropbox, and Lyft. He does so through his venture capital firm QueensBridge Venture Partners.
Reese Witherspoon: $150 Million
Photo: Flickr: GabboT
Many people recall Reese Witherspoon from successful films like Sweet Home Alabama and Gone Girl. Witherspoon doesn't limit her earnings to acting alone though. She has also dabbled in producing on the hit HBO show Big Little Lies. Additionally, she has invested a significant amount of money into her own clothing line called Draper James. The company has been expanding and competes with the likes of Tory Burch.
Jessica Simpson: $170 Million
Photo: Flickr: Dave Mathews
Jessica Simpson hasn't been in the spotlight much recently, but she's managed to stay relevant in the retail industry. In fact, it has contributed the most to her $170 million net worth. In 2006, she launched her very own clothing collection in collaboration with Camuto Group. At first, it was just shoes and later expanded to clothing, handbags, jewelry, and other items. Sales for the Jessica Simpson Collection were in the billions, leading to Sequential Brands Group purchasing a majority stake in the company.
Ashton Kutcher: $200 Million
Photo: Flickr: JD Lasica
Ashton Kutcher is most well known for his parts on That 70's Show and Two and a Half Men. The Hollywood actor hasn't made all his money on screen though. He has made a number of great investments. In 2009, Kutcher invested in Skype. Later, the company was purchased by Microsoft for more than $8 billion. Kutcher has also been able to invest a bit of cash in some other hot startups. He's been able to invest money into Airbnb, Flipboard, and the photo-sharing app Path.
Justin Timberlake: $230 Million
Photo: Flickr: Gage Skidmore
Justin Timberlake has had a number of hit albums and has acted a bit throughout his career as well (getting his start on The Mickey Mouse Club). He is also one of the most successful celebrity investors. Timberlake was able to get in on the $35 million sale of Myspace and has been playing a major role in the site's recent facelift. He has also invested in clothing brands (William Rast), bought a golf course in Memphis, founded a record company (Tennman Records), and invested cash in apps and startups (Stipple, Tapulous).
Lady Gaga: $300 Million
Pop singer and actress Lady Gaga hasn't seemed to slow down since she hit the stage in the early 2000s. Now, she's worth more than $300 million and is making lucrative investments to diversify her earnings. Gaga has become a major shareholder in Backplane, a music-and-sports-focused social media platform. She also invested money into the release of the popular social media game FarmVille (and later GagaVille).
Robert De Niro: $300 Million
Photo: Flickr: David Shankbone
Robert De Niro has made a ton of cash from his acting career, there's no doubt about that. However, most people don't know he is also a successful restauranteur. De Niro helped started the popular restaurant Nobu, named after its chef Nobu Matsuhisa. While he tries to keep his name off the restaurant, the chef credits De Niro with giving him the idea to start a Japanese restaurant empire. De Niro has served as a business partner in the Nobu chain, which has locations around the globe.
Kim Kardashian: $350 Million
Photo: Flickr: Eva Rinaldi
If you're on social media (or even look at the news), you know who Kim Kardashian is. She has made a name for herself and successfully branded her entire family, which has helped her reach a massive net worth of $350 million. Not all of it has stemmed from reality television though. She also founded the shoe company ShoeDazzle with three others in 2007. It now has more than 3 million customers that each pay a monthly fee to the site for personalized accessory choices. Additionally, she's been able to invest in the music industry with her husband, Kayne West, and is always looking for new ways to earn.
Ellen Degeneres: $450 Million
Photo: Flickr: celebrityabc
Ellen Degeneres has been a millionaire for years. Most of her wealth has stemmed from having her own television show, merchandise, and how people have responded to her presence. On top of her success on daytime television, she has become a seasoned house flipper. She and her wife, Portia, have renovated and sold 12 homes and have made a fair amount of money doing so. One flip earned the couple $15 million by itself.
George Clooney: $500 Million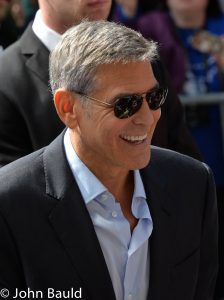 Photo: Flickr: John Bauld
George Clooney has always been a symbol of success in Hollywood. On top of his success on the big screen, Clooney has launched a profitable liquor brand. Many other celebrities have tried to do the same but weren't fruitful. Clooney, on the other hand, was able to sell his tequila brand, Casamigos, for $1 billion.
Why You Should Follow These Celebrity Investors
Choosing someone you can look at as a role model and follow as an example is never a bad idea. The celebrities listed above have been able to achieve great wealth with the investment decisions they've made during their careers.
It is also important to mention each of these successful celebrity investors are taking the time (and money) to invest in themselves as well. That is something important we can all take away.
Readers, what do you think about the investments these celebrities made? Would you have made the same choices?
Read More
Amanda Stewart is a 24-year-old full-time website manager and blogger. She is currently hacking her debt by saving money and investing, all while trying to kickstart a family and enjoy her adult life. In her free time she enjoys spending time with friends, entertaining (throwing parties), reading, doing puzzles and kayaking.