Self Made debuted on Netflix this year and drew some much-deserved attention to a Grammy Award-winning actress. Octavia Spencer, who has been active in Hollywood for decades, stole the Netflix series. (Seriously, it is hard not to LOVE her.) So, what is Netflix paying her for the role, and what is Octavia Spencer's net worth?
About Octavia Spencer
Octavia Lenora Spencer was born on May 25, 1972, in Montgomery, Alabama. She grew up with six siblings while her mother worked as a maid. Spencer's father died when she was just 13 years old.
After graduating high school, she went on to study at Auburn University where she earned a degree in English with a double minor in journalism and theater. That's quite a feat, considering Spencer is dyslexic! She has chatted about how it gave her anxiety at first, but it certainly hasn't stopped her career from booming.
The actress got her start as an intern on the set of The Long Walk Home. The following year, Spencer decided to take her chances and move out to Hollywood. She made her debut appearance in A Time to Kill, a film based on a novel by John Grisham. Then she began to land small roles in movies such as Bad Santa, Big Momma's House, Coach Carter, and numerous others.
During this time, Spencer also began to perform in stage plays. The first play she acted in was The Trials and Tribulations of a Trailer Trash Housewife in Los Angeles. She has since gone on to act in a number of other stage plays.
Hit Films & Netflix
The year 2010 marked Spencer's first big hit where she played a leading role. The Help helped award Spencer with a BAFTA for Best Supporting Actress and an Academy Award for Best Supporting Actress. That was her first nomination AND win in one swoop. She was also later invited to join the Academy of Motion Picture Arts and Sciences due to her role in the film.
After that, she went on to play roles in the James Brown biopic Get On Up and even FOX's television series Red Band Society. It may surprise you to find out she's even voiced animated characters in films like Zootopia. Then in 2016, she starred alongside Taraji P. Henson and Janelle Monae in Hidden Figures, which was another hit and earned her her second-ever Oscar nomination.
Since then, she's done plenty of acting in both big and small roles. Her most recent has been her part in Netflix's biographical limited series Self Made. Spencer is not only an executive producer on the show but is also playing the role of Madam C. J. Walker. On top of that, she will be appearing in films set to debut later this year as well.
Octavia Spencer's Net Worth: $12 Million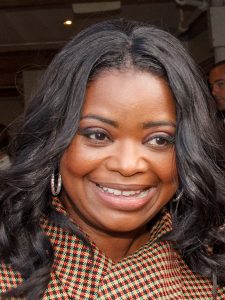 When it comes down to what her success has done for her wealth, Octavia Spencer's net worth sits around $12 million. That's not too bad considering her number of leading roles are limited.
Self Made has been one of Spencer's largest projects to date. As an executive producer and lead actress on the show, she's bringing home a bag. In fact, she thanked Lebron James and Maverick Carter for helping her with her negotiation abilities to help her get paid what she's worth.
Not much else is known about Spencer's earnings per year (or per movie). However, here is a look at how much each of her most recent (and most popular) films has made at the box office…
The Help: $216.6 million
Hidden Figures: $236 million
Zootopia: $1.02 billion
It is also known that when Spencer appears on a television show or plays a small role, her average fee sits around $75,000. If she wanted to, she'd only have to work once a year.
Endorsement Lawsuit
Like many other people in Hollywood, Spencer has also sought out endorsement deals. She's landed partnerships with makeup labels, workout businesses, clothing companies, and weight loss brands. However, not every deal she's gotten has been lucrative for the star.
In 2014, Spencer sued Sensa Products, a weight-loss brand, for canceling for endorsement deal after a post on her Instagram. According to The Hollywood Reporter, Spencer made the endorsement post with the hashtag #spon instead of #sponsored, which led to the termination.
The company terminated the contract still owing Spencer $700,000. When all was said and done, she won the lawsuit and Sensa was ordered to pay the actress $940,000 in total. It isn't clear whether she ever saw that cash though, as the company was already pretty financially strapped.
Spencer's Assets
Spencer's assets play a very small role in her overall wealth. She owns a 20s-style Spanish House in Los Angeles. It is valued between $841,500 and $1 million. Outside of her home, she has no other notable assets that would significantly contribute to her net worth that would be known to the public.
One thing is for sure, Octavia Spencer's net worth (and career) aren't done growing any time soon. It will be interesting to see how she continues to expand in the future.
Read More
Amanda Stewart is a 24-year-old full-time website manager and blogger. She is currently hacking her debt by saving money and investing, all while trying to kickstart a family and enjoy her adult life. In her free time she enjoys spending time with friends, entertaining (throwing parties), reading, doing puzzles and kayaking.