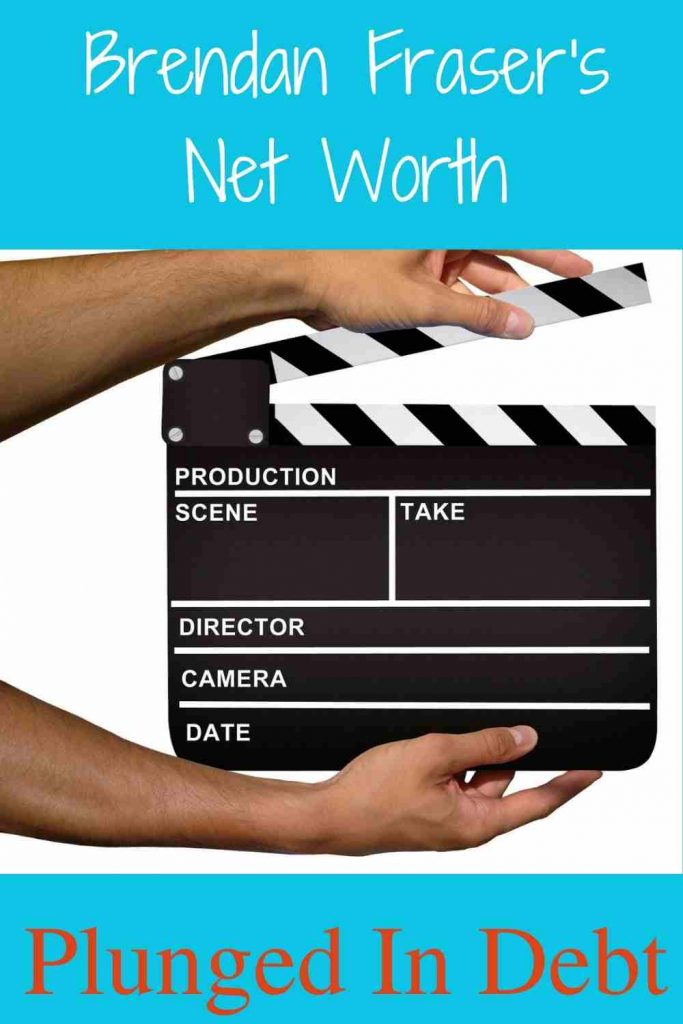 Brendan Fraser's net worth is one of the more interesting topics we get to cover here on Plunged in Debt. This is due partly to the fact that he significantly lost much of his net worth in recent years. Nevertheless, he's also made a bunch of headlines in 2021. Therefore, it's an ever-changing story that's intriguing to follow.
Who is Brendan Fraser?
Brendan Fraser is an American actor born in Indiana to Canadian parents. He moved frequently throughout his early years, spending time in places as diverse as Detroit, Seattle, London, and Rome. While in London, he discovered that he loved theatre. As a result, he decided to study the medium at a Seattle art school. After that, he began to slowly make a name for himself as an actor. If you're only vaguely familiar with him then it's probably from his leading role in "George of the Jungle" or some of his other well-known roles in "Encino Man," "Crash," or "The Mummy."
Brendan Fraser's Film and TV Credits
If you take a look at his full body of acting credits over on IMDB, then you'll see that he began in 1991 with three TV movie appearances. That same year he was in River Phoenix's "Dogfight," albeit in a small role. That led to enough attention that the following year he was in "Encino Man" as well as "School Ties." He continued to play lots of small and supporting roles, working in several movies, and occasionally on TV shows over the next five years or so.
In 1997, he got the leading role in "George of the Jungle," which people consider his real breakout moment as an actor. Then came "The Mummy" in 1999, and, of course, "The Mummy Returns" a couple of years later. If you're a fan of the series, then you know that he was in additional sequels, as well as the voice in related video games, in 2004 and 2008. This would not be the only time his acting would cross over into video games. He performed in "Journey to the Center of the Earth, " which also had a related video game.
Brendan Fraser's Work on the Small Screen
Brendan Fraser's net worth grew steadily in large part to his prolific work. He wasn't always the star of the show, but he consistently appeared in at least one, and usually many, roles per year. He worked mostly in film, sometimes uncredited. However, he also made TV appearances in "Fallen Angels," "The Simpsons," "King of the Hill," "Scrubs," and "The Fairly Odd Parents."
In more recent years, he's been particularly active on the small screen. In the past six years, he's had recurring roles on:
"Texas Rising"
"The Affair"
"Trust"
"Condor"
"Professionals"
"Doom Patrol"
Why Brendan Fraser Switched To The Small Screen
Brendan Fraser's net worth wasn't the reason he made the switch to TV. Instead, he felt compelled to get out of Hollywood for much more serious reasons. GQ explains a series of events that led to changes in his career. First of all, he was playing a lot of high-action intense figures in his movies. It was great for the screen but unfortunately terrible for his body. He required multiple surgeries as well as a break from this type of work.
In happier things, he got married to Afton Smith in 1998. They had three children together. And although they divorced about a decade later, this was a time worth spending with family.
Blacklisted From Hollywood?
Then comes the real hard part, the real reason he just needed to get away from Hollywood. In 2003, he was molested by Philip Berk, former head of the Hollywood Foreign Press Association. He didn't speak about it for years, didn't know how to speak about it or deal with it. So, in a lot of ways, he just avoided Hollywood. Even 15 years later, he couldn't say it to the GQ article writer in person. Instead, he phoned him after the initial interview to reveal this information.
Since that time, Fraser has opened up a lot more about the experience. He's written a memoir that discusses it. The New York Times did an article. And as more and more people (mostly women) have come forward in Hollywood to discuss the prevalence of this problem, he's become more capable of discussing it. He explains that his disappearance from Hollywood was two-fold. On one hand, he was dealing with trauma and depression, and he didn't want to put himself back into that scene.
On the other hand, when he tried to get help from the Hollywood Foreign Press Association and others in the industry, he felt a lack of support. GQ reports that invites to the Golden Globes stopped. Philip Berk, who denies the allegations, continues to appear at the Golden Globes. But in recent years, many in the industry have started to shun him in support of Fraser. And according to Pop, there's a whole Tik Tok movement supporting Fraser that's enough to bring the actor to tears.
The prolific actor did continue to appear in small parts every year after the incident and up until the present time. And soon he found his niche in TV shows for a time.
Upcoming New Work from Brendan Fraser
Brendan Fraser's net worth took a nosedive during those tough years. However, he's had a lot of time to process. Equine therapy, time with his family, time away from Hollywood, and years of personal growth have made him ready to make movies again. And he's got a lot on his plate.
Pop explains that he's playing the main character in "Whale." This is a serious film about a 600-pound man who binge eats due to guilt. He's attempting to connect with his estranged daughter. This is obviously a more serious role than many he's played in the past. Perhaps that's perfectly right for someone who is older now and who has been through so much.
Other recent and upcoming films are, "No Sudden Move," "Behind the Curtain of Night," "Killers of the Flower Moon," (currently filming), and "Brothers," which is in pre-production. "Killers of the Flower Moon" is a Scorsese film also starring Leonardo DiCaprio and Robert DeNiro. We don't know the numbers behind what he's paid for these new films. However, a lot of people are excited about Brendan Fraser's comeback to the big screen. Therefore, Brendan Fraser's net worth should be on the rise again.
Brendan Fraser's Net Worth, Income, and Assets
Celebrity Net Worth currently reports Brendan Fraser's net worth at about $20 million. The Things explains that he used to be worth more than twice that.
Examples of What Fraser Earns on Movies
Celebrity Net Worth reports the following specific earnings:
$1.6 million for "The Scout" in 1994
$4 million for both "Duddley Do-Right" and "The Mummy" in 1999.
$10 million for "Bedazzled" in 2000.
$12.5 million for "The Mummy Returns" in 2001
$14 million for 2008's "Mummy" sequel
Personal Life and Finances
Of course, Brendan Fraser's net worth isn't just about what he earns. There are also costs involved. In his case, they've been tied to his personal life. He and Afton Smith divorced in 2008. A 2013 court case related to the divorce revealed more information about his finances.
Celebrity Net Worth reports that as of 2013, Brendan Fraser's assets were worth $25 million. He reported his monthly income at just over $200,000. He claimed another $26,000 per month in investment income. However, he also had a whole lot of expenses:
Over $100,000 per month to lawyers, agents, and other professionals
$50,000 per month in alimony
$34,000 per month to taxes
$25,000 per month in child support
$25,000 per month in mortgage, property taxes, etc.
He was asking the court to reduce his alimony because his earnings had declined since the time of their divorce. However, the court said at the time that unless his annual earnings went below $3 million, his alimony costs would remain the same. As of that time, Fraser spent more than he earned each month.
Furthermore, there are expenses that we can assume even if we can't know for sure about them. For example, we know he's had multiple surgeries, therefore he's had medical costs. Additionally, this eldest son is on the autism spectrum, so there might be additional care required there.
Brendan Fraser's Net Worth: $20 million
This is our best guess at Brendan Fraser's net worth as of 2021. However, with the slew of movie credits coming up, we expect the amount to rise in the near future.
Read More:
Surprisingly Frugal Celebrities

Kathryn Vercillo is a professional writer who loves to live a balanced life. She appreciates a good work-life balance. She enjoys balance in her relationships and has worked hard to learn how to balance her finances to allow for a balanced life overall. Although she's only blonde some of the time, she's always striving for total balance. She's excited to share what she's learned with you and to discover more together along the way. Learn more about her at www.kathrynvercillo.com.