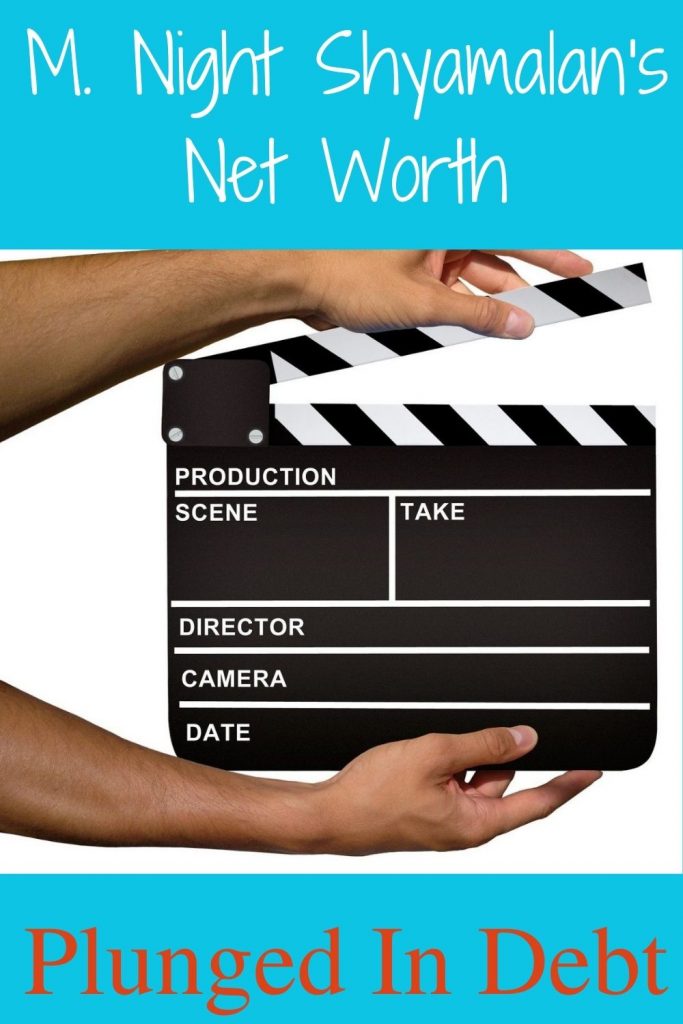 If you enjoy thriller films, science fiction, horror movies and the supernatural, then there's a good chance that you're a fan of M. Night Shyamalan. After all, the writer/director/producer gained massive fame for "The Sixth Sense," which was nominated for half a dozen Academy Awards back in 1999. Moreover, he's only gained fame with his work since then. With his amazing body of work, we have to ask, "what's M. Night Shyamalan's net worth?"
M. Night Shyamalan's Early Personal Life
According to IMDB, M. Night Shyamalan was born in 1970 in Puducherry, India. His given name is Manoj Nelliyattu Shyamalan. Both of his parents are doctors and reportedly his dad wanted him to be one as well. They moved to Philadelphia when he was young. In fact, Celebrity Net Worth reports that he was only six weeks old. Therefore, he was raised there. If you're a fan of his films then you'll know that he often features Philadelphia as the setting or background of his movies.
Although his dad wanted him to be a doctor, his mom supported his love of film. He attended the Tisch School of the Arts at New York University. That's when he changed his name and started going by M. Night Shyamalan.
M. Night Shyamalan's Film Influences and Style
We can't talk about M. Night Shyamalan without discussing how unique his work is. According to IMDB, he fell in love with filmmaking as a child. He was a young fan of Steven Spielberg and used him as a model for a career in the industry. He's also known to have some Hitchcock influences, including that he regularly makes small cameo appearances in his own films as Hitchcock did.
What has given M. Night Shyamalan's net worth such a boost over the years is his truly unique approach to filmmaking. There are a small handful of people whose film you can see and immediately recognize it as theirs. Think Quentin Tarantino and Tim Burton. M. Night Shyamalan falls into this category. He works across a broad swatch of the horror/thriller genre including supernatural films, eco-thrillers, psychological thrillers, and more. Within that, he has some signature things you'll often see in his movie.
Signature Things to Look For in an M. Night Shyamalan film
IMDB notes that these include:
Plot twists and, in particular, surprise endings
Religious themes
"Car crashes pay a pivotal role in all his films."
Spiral motifs show up in various ways in most of his films
Fluttering curtains as an effect
Look for bright colors, often red, as a sign that something is important in the film
Basement scenes are often important to the film
Film shots of people's reflections inside of objects
Long scenes of dialogue between two people
Water is in scenes that feature weakness or death
Broken glass often serves to warn you that something bad is about to happen in the film
What's happening currently in the film is usually tied to something from the main character's past
The theme of two regular people who have extraordinary abilities. One is a child or connected to the child. If it's the latter, then the person always has marital difficulties. And in fact many of his films are about marriage problems and/or have widowed spouses.
Furthermore, there are some themes to his work that play out behind the scenes. If you pay close attention, then you might notice that a character's lines rarely overlap with their actions. If you watch his movies in chronological order, then you might notice he often works with the same actors in movies back-to-back. Finally, if you pay close attention to the sound, then you might discover two things. First, the music is similar across many films because he usually works with the same person on that (James Newton Howard.) Second, he never uses stock sound effects; it's all original.
Because of all this an M. Night Shyamalan is identifiable and unique.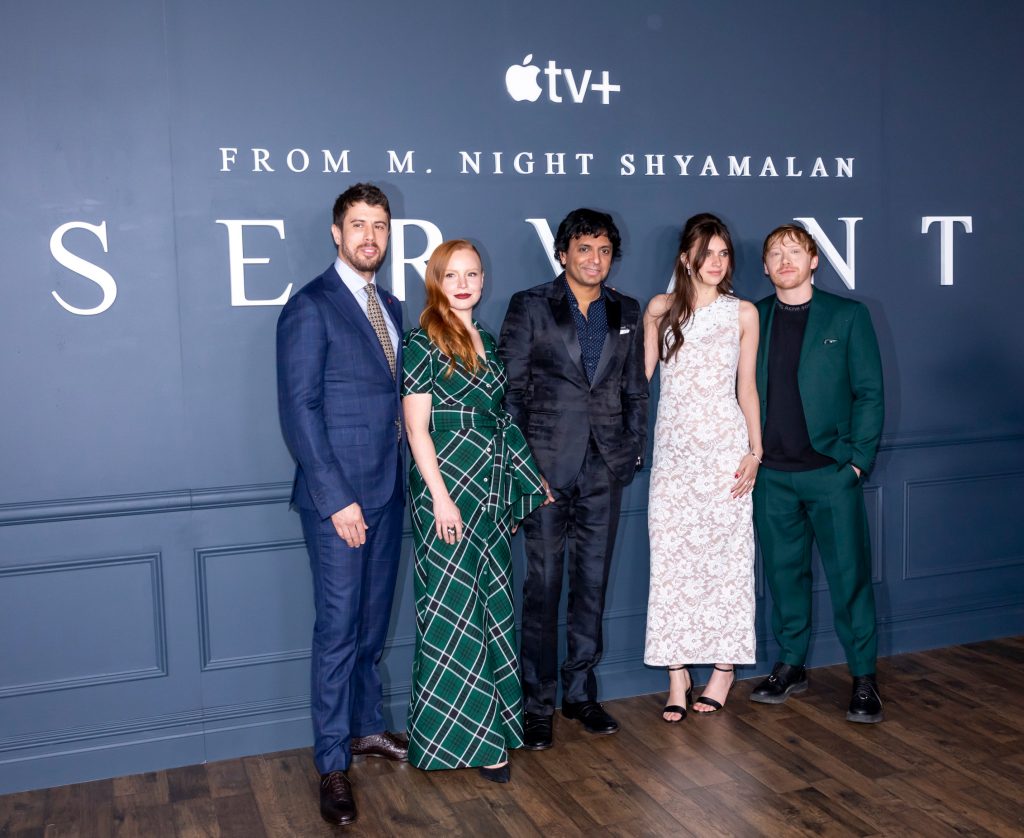 M. Night Shyamalan's Career
So, let's talk more about the movies that have led to M. Night Shyamalan's net worth being as large as it is. He singularly funded his own first film, "Praying with Anger" in 1992. Working on that shoestring budget, he not only produced and directed the film but also starred in it. He was just 22 years old at the time. Six years later, he filmed "Wide Awake." But it was the year after that when he really started to get traction. After all, that's when "The Sixth Sense" came out. It was a huge hit.
M. Night Shyamalan had hit the ground running, and he wasn't about to stop. His next major films that you may quickly recognize by name include:
"Unbreakable" in 2000
"Signs" in 2002
"The Village" in 2004
"Lady in the Water" in 2006
"The Happening" in 2008
"Avatar: The Last Airbender" in 2010
"After Earth" in 2013
"The Visit" in 2015
"Split" in 2016
"Glass" in 2019
"Old" in 2021
If you review that list, you'll see it includes one or more psychological thrillers, science fiction thrillers, eco-thrillers, dark fantasy, and horror films. And yet they all incorporate the signature M. Night Shyamalan style. IMDB notes that he's working on "Labor of Love" with no release date yet.
Oh, and M. Night Shyamalan is a TV producer as well. But if you like "Wayward Pines" or "Servant" then you already know that.
M. Night Shyamalan's Net Worth
We can see that M. Night Shyamalan has had a successful career. He's still working hard at it, so he continues to earn an income as a film producer, director, writer, and sometimes actor.
What His Films Have Earned
Celebrity Net Worth reports that M. Night Shyamalan's films have earned over $3 billion in total. Particularly notable is that at $672 million, "The Sixth Sense" was the second-highest-grossing horror film at the time of its release. Of course, that's not his personal net worth. Nevertheless, often playing multiple roles (writer, director, producer) means that he gets a nice chunk of that change.
Not all of his endeavors have been successful. In fact, he had a rough period. "Lady in the Water," "The Happening," and "The Last Airbender" were all considered box office failures according to Celebrity Net Worth. However, the films he created after that again took him on an upswing.
Forbes notes that he's one of the few directors to have 5+ films that grossed over $100 million each. In fact, they report that he's only the 18th director ever to accomplish that.
M. Night Shyamalan's Salary
The Richest broke down his annual salary for four years between 199 and 2004 as follows:
$3,000,000 for "The Sixth Sense" in 1999
$10,000,000 for "Unbreakable" in 2000
$12,500,000 for "Signs" in 2002
$10,700,000 for "The Village" in 2004
If you're interested in how his salary breaks down per movie, we get some insight from The Richest about "The Village." His salary for that broke down as follows:
$7.2 million for story rights
$3 million for producing
$300,000 for writing
$221 thousand for directing
So, that gives you a bit of a sense of what he earns per movie depending on its sales, the contract negotiations, the different roles he plays, etc.
M. Night Shyamalan Assets
Wikipedia reports that he lives in a 27,000 square foot house in Ravenwood, outside of Philadelphia. Moreover, the house is on 135 acres. According to Celebrity Net Worth, he paid $17.9 million when he purchased it back in 2005. However, he's since added a lot to the property including a full two-story gatehouse. Two years before buying that property, he'd spent $6.3 million for a Manhattan penthouse which he sold in 2012 for $9.5 million.
He also has his own production company, Blinding Edge Pictures. Most of his recent work has come out of that company, which he co-owns with a partner.
What Is M. Night Shyamalan's Net Worth?
The Richest placed M. Night Shyamalan's net worth at around $50 million. However, that article looks to be a little bit older. And the celebrity has done really well in recent years, particularly with the TV show "Servant." Therefore, Celebrity Net Worth places M. Night Shyamalan's net worth at closer to $80 million.
M. Night Shyamalan: Personal Life
Although he didn't become a doctor like his parents, he did marry one. He met Dr. Bhavna Vaswani at NYU. They have three daughters together. One is musician Saleka. Another is a director who has worked on Saleka's music videos.
Read More:

Kathryn Vercillo is a professional writer who loves to live a balanced life. She appreciates a good work-life balance. She enjoys balance in her relationships and has worked hard to learn how to balance her finances to allow for a balanced life overall. Although she's only blonde some of the time, she's always striving for total balance. She's excited to share what she's learned with you and to discover more together along the way. Learn more about her at www.kathrynvercillo.com.