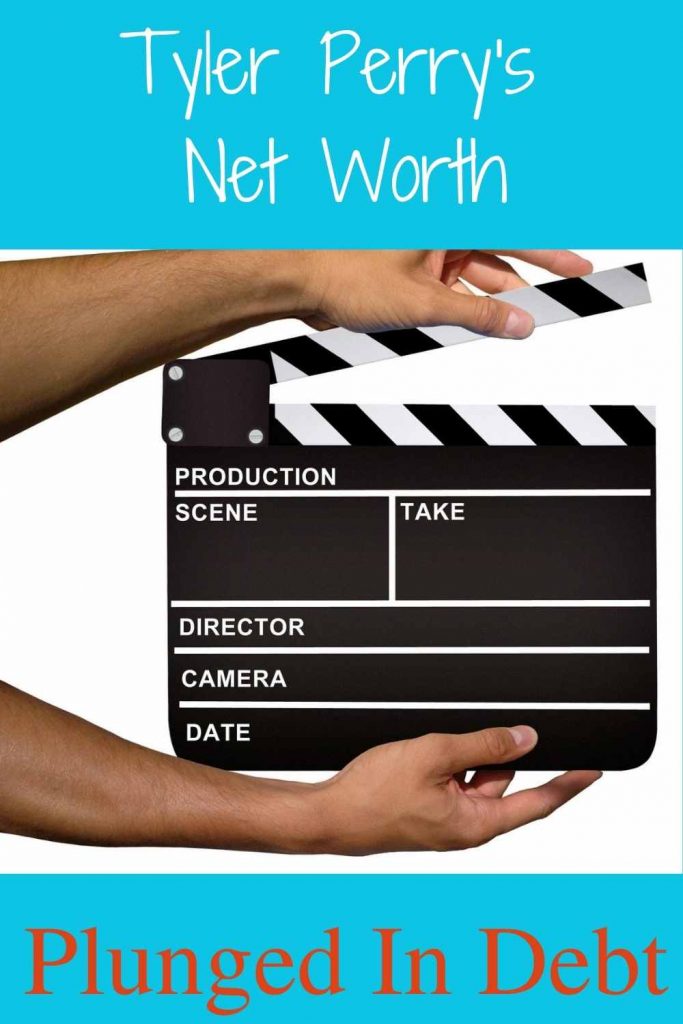 We love to share celebrity net worth information with you here. However, usually we're talking about people earning in the millions of dollars. That's not the case when it comes to discussing Tyler Perry's Net Worth. This man is a billionaire. It's impressive, mostly because it's all by his own doing. Forbes reports that Perry was a "once-homeless playwright raised in poverty in New Orleans" who is now on a "clear path to future membership in The Forbes 400." How did he get there?
Who is Tyler Perry?
If you've seen the Madea character movies, particularly "Diary of a Mad Black Woman", then you know who Tyler Perry is. However, if that's all that you know him for then you're truly missing out. He's an amazing creative talent with a diverse array of credits to his name. IMDB has him listed with nearly five dozen writing credits. Additionally, they've listed him with:
60 producer credits
56 director credits
45 acting credits
155 credits performing as himself (doing interviews and such)
And additional credits as composer, soundtrack, art department, additional crew and more
Tyler Perry Early Life
According to IMDB, he was born in September 1969. His given name is Emmitt Perry Jr. He was born and raised in New Orleans, Louisiana. Forbes explains that he grew up in poverty with an abusive father who he later learned wasn't his biological father after all. He had a close relationship with his mother, attending church with her weekly. In order to cope with their stressors, he would pass the time trying to make his mom laugh by doing impersonations.
Perry dropped out of high school. However, he did everything he could to get an education. He recalls early on getting inspired by an Oprah show to start writing out his feelings. He began writing plays and started touring in small theaters with his work. Sometimes, he did what he had to in order to get a foot in the door. For example, Forbes reports that he worked for a time at the Windsor Court Hotel which held the National Association of Television Program Executives. Although he was just a twenty-something hotel staff member, he would sneak badges that event-goers left behind so he can get in and see what was going on. HE soaked up all of the knowledge he could.
Tyler Perry's Early Work
Obviously, he worked a variety of odd jobs to get by while still continuing to write his plays. He sold cars. He worked as a bill collector. Yet all the while he worked on scripts, some of which began to sell. He saved every cent that he could and eventually was able to rent space at an Atlanta community theater. It was there that he showcased his first play, "I Know I've Been Changed," which is the story of surviving child abuse. His work wasn't easily received. He lived in his car while working on the production. He did all the work himself from set design to snack bar sales.
After that, Tyler began touring with his plays. And that's when something really interesting happened. The Black community began to take notice of him. In particular, Oprah Winfrey noticed him. It had come full circle; her show had inspired him to write and now she was taking notice of what he wrote. She reportedly didn't typically like touring plays but really connected with his work. She invited him onto her show when he was in early 20s. And she gave him the most important advice ever or Tyler Perry's Net Worth.
Oprah's secret: own and control everything that you make. All of it. Forbes reports that's how he ended up becoming so financially successful.
Tyler Perry's Net Worth Is Because He Owns His Work
Forbes reports that thanks to this ingenious insider tip, Perry "owns the entirety of his creative output." This includes:
22 feature films
1200+ television episodes
2 dozen or more stage plays
Oh, and he doesn't have a noncompete agreement, so he can keep making (and owning) more content.
Tyler Perry Additional Income and Earnings
So, he owns all of that which means he makes all of the money off of it. Additionally, this has given him leverage to earn income directly from the people and organizations that want to work with him. For example, ViacomCBS pays him $150 million per year for new content. That's annual income! Many of the celebrities we share on this site have net worth right around that. For Tyler Perry, that's just a year's paycheck for one job. Additionally, he has equity stake in the streaming service BET+, also owned by ViacomCBS.
Some additional interesting earnings income that add to Tyler Perry's net worth:
Although you might know him from his movies and TV shows, he made more than $150 million in theater ticket sales, merchandise, and video performances before he ever made a film or show
His break into TV wasn't easy. However, he succeeded in 2006 when CW bought "House of Payne." TBS saw how well the show was doing and offered to give him $200 million to bring the show to them. They guaranteed they would air 90 new episodes and, true to form, Perry would own the content.
He wanted to turn "Diary of a Mad Black Woman" into a film. (It was first a play.) However, Hollywood at the time didn't think his work would hold up (primarily out of racist ignorance about what audiences would want to see.) Perry proposed that he himself would pay half the money up front, collect half the profits, and maintain control of the content. In exchange, Lionsgate would put up the other half, and they retained the right to deduct 12.5% in distribution costs as well as any marketing costs. Tyler Perry bet himself and he won big. The film grossed over $50 million in theaters. More importantly, it's made more than $150 million in post-theater sales. Remember, he owns that content.
Forbes says he's earned more than $1.4 billion in pretax income in the past 15 or so years.
Tyler Perry Assets
Forbes reports that Tyler Perry owns:
Bicoastal homes: one in Los Angeles and one in New York. Business Insider reports that Prince Harry and Meghan Markle stayed in the $18 million home while settling in the US.
An additional home in Atlanta, Georgia.
And a fourth home in Wyoming
He also owns two airplanes.
Additionally, he owns Tyler Perry Studios, a 33–acre studio lot. He paid $30 million for it. Then he paid another $250 million in additions. However, since he owns it all, it aids in his returns on all filming. Furthermore, he can rent the studio space out to others for cash. Moreover, he purchased it at a smart time when Georgia tax breaks were in his favor.
Tyler Perry's Net Worth: $1 Billion
And with lots of growth potential!
Read More:

Kathryn Vercillo is a professional writer who loves to live a balanced life. She appreciates a good work-life balance. She enjoys balance in her relationships and has worked hard to learn how to balance her finances to allow for a balanced life overall. Although she's only blonde some of the time, she's always striving for total balance. She's excited to share what she's learned with you and to discover more together along the way. Learn more about her at www.kathrynvercillo.com.