Kanye West is one of the best-selling musicians in the entire world. He has won two dozen grammy awards, among many other awards. He's also an entrepreneur in the fashion industry. Naturally, he has a lot of money. Billions, in fact. But what exactly is Kanye West Net Worth in 2022?
Who Is Kanye West?
It would be really surprising to us if you've never heard of Kanye West. He's one of the most well-known rappers of all time. He's also known for being married to Kim Kardashian, although they're now separated. But even though you've probably heard about him, we wanted to give you a short timeline of his life and career. Onyx Nightclub has a great post of "A Timeline of West's Years of Excellence" that provides a solid starting point.
Kanye West's Childhood
According to their post, he was born in Georgia in June 1977. His parents, Donda Williams and Ray West, named him Kanye Omari West. In 2021, he legally changed his name to Ye (no middle or last name.)
His parents divorced when he was young and by age three he had moved to Chicago with his mother. And it seems like he was always destined to be a star in music.
In fact, he was only 13 in 1990 when his mother helped him pay to make his first record. It was recorded in a cheap basement studio. It certainly wasn't destined to be the star's best work. But it speaks to his creativity, commitment, and drive as well as to his mother's support of his budding career.
However, he also pursued education. It turns out he is creative in many different ways. He studied painting at Chicago's American Academy of Art and then majored in English lit at Chicago State. That said, he did drop out of Chicago State when his music career began taking off.
Kanye West's Career
If you take a look at that Onyx timeline, you'll see that Kanye West has had big career milestones pretty much every year since his early twenties. That's why the Kanye West Net Worth in 2022 is obviously high. Some of the highlights include:
In 1998 he sold his first beats to other rappers for a total of over $10000.
In 2000, he began working as a producer for Roc-A-Fella records. This really kicked off his career and began a powerful decade in which he came into his own as the icon he's known now to be. Within that first year of the decade, he did groundbreaking work with Jay-Z that started establishing his name solidly in the industry.
Over the next few years he works with other big names like Beyonce and Alicia Keys. In 2004, he releases his own first solo rap album. It debuted at No 2. on the Billboard 200 albums chart, selling almost half a million copies in the first week. He won two grammy awards off of that album.
His career continues to grow, both as a producer and a solo rapper. Then in 2009 he branches into big entrepreneurial efforts, partnering with Nike on a pair of Kanye-branded shoes.
Albums upon albums keep coming, including a huge collaboration with Jay-Z on "Watch the Throne." Grammy awards continue stacking up.
In 2015, he begins releasing his Adidas Yeezy shoe line, including a debut at New York Fashion Week, really gaining. toehold in the fashion industry. He would continue to grow his fashion business. According to Wikipedia, in 2021 he signed a 10-year deal with GAP, releasing the first piece (a jacket) in the collaboration in June of that year. In the first year, sales reached $1 billion. Forbes explains this then led to a higher-end deal with Balenciaga as well.
Additional Businesses and Achievements
Really, we could go on and on here because Kanye West just doesn't stop. A quick browse through Wikipedia notes many achievements and entrepreneurial endeavors. Some of the most notable:
He has sold more than 160 million records. Six of his albums made Rolling Stone's 2020 list of the 500 Greatest Albums of All Time.
He has won two dozen granny awards, the tenth most of all time, and the most of any rapper (tied with Jay-Z).
Among many other awards, he has appeared on the Billboard Hot 100 over 130 times, the fifth most ever.
In 2004, he founded the record label and production company GOOD Music. In 2012, he established the creative content company DONDA. And then in 2018 he launched Half Beast, LLC, a film production company.
In 2015, he joined other huge artists including Madonna, Rihanna, and Jay-Z in co-owning music streaming service Tidal.
He has done some voice acting and minor roles. He also wrote and directed two short films including one that premiered at the 2012 Cannes Film Festival.
Kanye West and the Kardashian Empire
Kanye West and Kim Kardashian had their first child together in 2013. They married the following year. They had three more children together, the youngest born in 2019. Then they separated shortly after, and she has filed for divorce as of early 2022.
Their relationship has obviously been a hugely public one, and it's one that's as rooted in business together as it is their family life. Many have argued that the success of the whole Kardashian family is due in large part to Kanye's influence and own success. However, Buzzfeed points out that this is a reductive view, and shares some great insights about their business influences on one another over the years.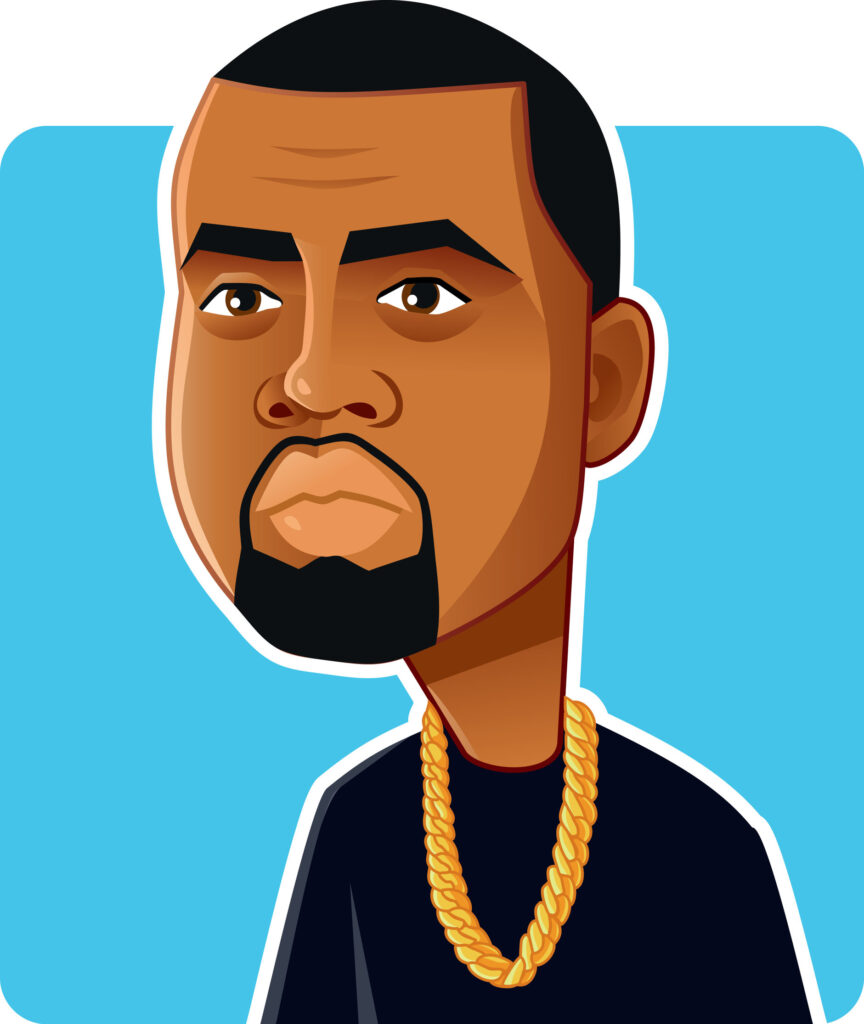 So What Is Kanye West Net Worth in 2022?
Obviously, he's rich. But just how rich? Forbes reports that the Kanye West Net Worth in 2022 is $2 billion. They cite that as the fifth-highest net worth of all entertainers. Wikipedia reports that he's the highest net worth musician with that total.
How will the divorce affect Kanye West's net worth? Time will tell, but they do have a pre-nup, and Forbes gives a breakdown of what they're calling a $2.1 billion divorce settlement, because that's what they reportedly have in shared assets. They say that he has $1.3 billion in assets with Yeezy, which he owns 100% of, but that's "illiquid" assets. However, he receives about 11% of the brand's annual revenue. She, on the other hand, has fewer assets at about $780 million in her own beauty business, but hers is more liquid. So, likely, each of them will keep these respective businesses and the related net worth.
Together, they have another $70 million in assets including a mansion, a condo, and two ranches. About $5 million of those assets are in art. They also have shared jewelry, vehicles, and even livestock.
So, as of right now, they cite his net worth as $2 billion but his assets as $1.3 billion.
Read More:

Kathryn Vercillo is a professional writer who loves to live a balanced life. She appreciates a good work-life balance. She enjoys balance in her relationships and has worked hard to learn how to balance her finances to allow for a balanced life overall. Although she's only blonde some of the time, she's always striving for total balance. She's excited to share what she's learned with you and to discover more together along the way. Learn more about her at www.kathrynvercillo.com.