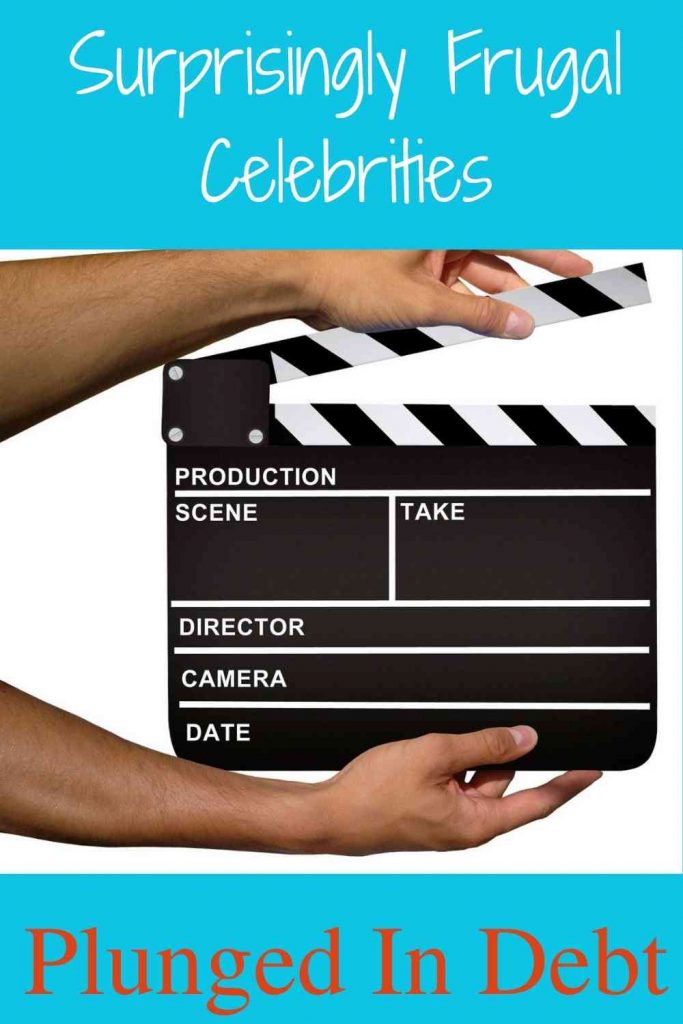 We all love learning about the lavish ways in which celebrities spend their money. Decades ago we watched it on "Lifestyles of the Rich and Famous." Then there was MTV's "Cribs" (which, you might know, is making a comeback.) Plus, of course, there's every watch-the-lives-of-the-rich reality show from Kardashians to all of the Housewives. But, not all celebrities are spending their money on expensive cars and multiple homes. There are some surprisingly frugal celebrities out there. And those of us with less-than-celebrity-level bank accounts could do well to take some lessons from them!
Leonardo DiCaprio
If you've ever perused lists of surprisingly frugal celebrities in the past then chances are that you've seen Leonardo DiCaprio's name there. The Richest reports that he does have more than one car but almost always just drives the sensible Toyota Prius. And while he certainly has enough money to fly on private jets whenever he wants to, he choose commercial airline flights more often than not. Being frugal doesn't mean he's stingy, though. He's known for giving a lot back to charity. Of course, there could be a tax break in that, which also makes it a smart financial move.
Mel Gibson
The Richest article emphasizes the cars that surprisingly frugal celebrities choose to drive. After all, many celebrities immediately use their first paychecks to get really flashy cars. Some of them famously have dozens of six-figure cars. And yet, Mel Gibson drives a Toyota Cressida.
Dave Grohl
MoneyWise is also interested in the cars of surprisingly frugal celebrities. Dave Grohl of Foo Fighters drives a small family car. He also lives in a "just big enough" house.
Ed Sheeran
In last year's article on stars who set good financial examples, we highlighted how frugal Ed Sheeran is. He sleeps on friend's couches. He gives himself a small allowance each month. However, that doesn't mean that he never spends his money. Instead, he actually spends a lot of money … but only on things that he expects to have a good ROI. He invests in real estate, cars, art, and a restaurant business. He apparently has more than two dozen properties.
So, he is one of our surprisingly frugal celebrities not because he doesn't spend money but because of how he chooses to spend it. He skimps and saves on every day things then uses it only to make wise investments. If you're looking for celebrity financial advice, his seems to be "frugal every day, spend big on items with a big potential return."
Keira Knightley
One thing that Knightley has in common with Sheeran is that she keeps herself on a budget. The Richest reports that she allows herself to live on about 1/1000 of her net worth annually.
Rob Gronkowski
In that same 2020 article, we highlighted Rob Gronkowski because he's chosen not to use any of the millions he's earned Fromm the NFL. That's all in savings. And unlike Sheeran, he's not spending that money in other places like cars. Instead, he sits on it, using only his earnings from marketing to live off of. Of course, his marketing earnings are probably more than a lot of us make in a year. Nevertheless, the frugal advice here would be to develop a passive income stream and live off of that while setting aside other income for the future.
Carrie Underwood
The American Idol turned superstar is famous for clipping coupons, making her own meals, and using other frugal tips that the average person uses in life. She's one of the surprisingly frugal celebrities who more or less lives the way that the rest of us do. While she and her husband do live in nice homes, they only have one at a time (unlike many other celebrities who keep multiple properties.) And while surely her 300-acre property wasn't cheap, the Tennessee home allows her to live a pretty regular life with her family.
Lady Gaga
Carrie Underwood might have her Oklahoma upbringing in mind when she remembers to clip coupons. She's not the only one. Although Lady Gaga isn't always frugal, The Richest reports that she loves to get a good bargain. In particular, she looks for good prices at the grocery store. So, although perhaps she's not entirely frugal all of the time, she teaches us to always keep an eye out for good prices on the things we buy most often.
Sarah Jessica Parker
Who would think that the fashion icon was frugal when it comes to clothing? If you're a fan of hers, however, then you might know that she dresses her kids in secondhand clothing and hand-me-downs, according to Saving Advice. She herself was a big thrift shopper when she was younger. And like Underwood, Gaga, and many other stars, this has to do with remembering what it was like not to have money as a child. The Richest reports that she has an ambivalent relationship with money and will be frugal for awhile than overspend. Like most of us trying to balance our budgets, this celebrity is a work in progress.
Tyra Banks
Saving Advice also reports that Tyra Banks is one of our surprisingly frugal celebrities. Her biggest way to save money is through DIY. In particular, she likes to DIY her own home improvement projects. Where she will spend money is on things that last. In other words, she's frugal because she'll invest in durability and quality that will save money over the long haul. There's a difference between being frugal and being cheap. Cheap sometimes costs more in the end!
Kristen Bell
The Richest definitely had to highlight Kristen Bell and her husband if for no other reason than that they spent less than $150 on their wedding. After all, celebrities can make this big special day as lavish as they want. And yet, she likes to keep things simple. And although she looks great dressed to the nines, she's been known to shop at everyday bargain stores for clothes, even clothing she wears to big events.
Mila Kunis
Speaking of frugal weddings, MoneyWise reports that Mila Kunis and hubby Ashton Kutcher bought their wedding bands on Etsy for a total of under $200. They also keep Christmas frugal with just one gift from them to their kids (although the kids get plenty more from other family members.)
Other Surprisingly Frugal Celebrities
Here are some of the other celebrities mentioned in the articles linked above and below:
Halle Berry is known to like shopping for a bargain price on everyday items.
Mark Zuckerberg isn't frugal about all things but reportedly drives a cheap car.
Tobey Maguire is careful about his spending habits. Like many of these celebrities, he doesn't want to go back to being poor.
Tiffany Haddish, once homeless, is also careful with her money. She drives a sensible car and carries fake designer handbags (or real ones gifted to her by others.)
Hillary Swank, like Carrie Underwood, is a coupon clipper.
Jennifer Lawrence kept relatively the same lifestyle after making it famous as she had before.
Mariska Hargitay reportedly approached things similarly to Jennifer Lawrence.
Zooey Deschanel stuck to a strict annual budget while making her highest income in "The New Girl."
Jay Leno put all of his "Tonight Show" earnings into investments for the future. He lived off of other comedy income.
Keanu Reeves uses public transportation and buys non-brand items.
Read More:

Kathryn Vercillo is a professional writer who loves to live a balanced life. She appreciates a good work-life balance. She enjoys balance in her relationships and has worked hard to learn how to balance her finances to allow for a balanced life overall. Although she's only blonde some of the time, she's always striving for total balance. She's excited to share what she's learned with you and to discover more together along the way. Learn more about her at www.kathrynvercillo.com.