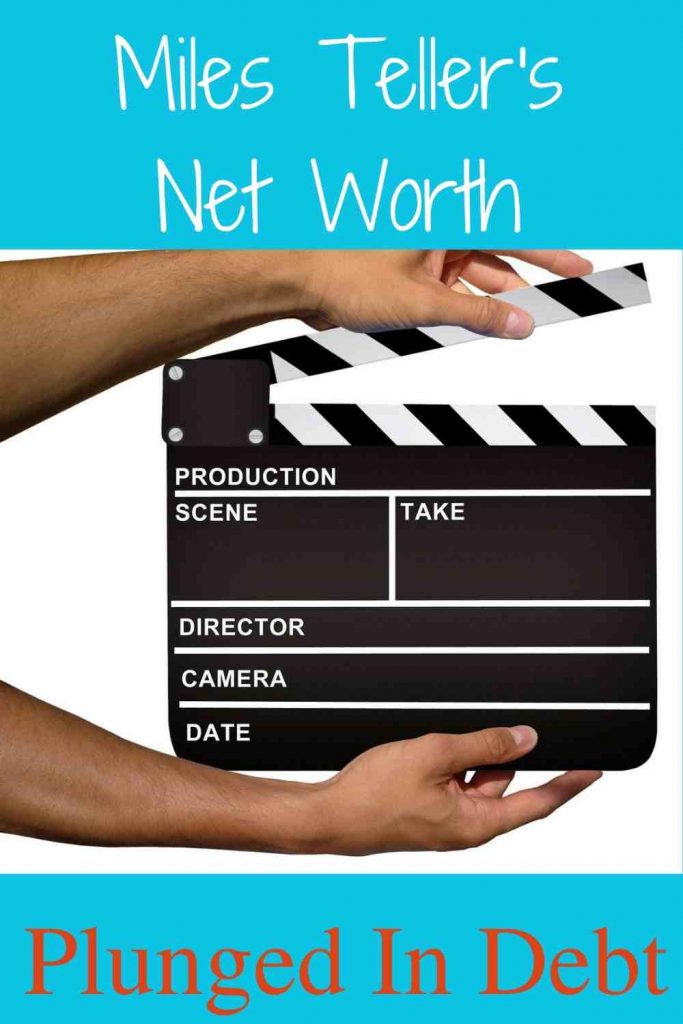 Miles Teller is an actor and musician. Maybe you know him from movies like "Divergent" and "The Spectacular Now." or perhaps you've only gotten to know him because his name has been in the news a lot recently. He was assaulted earlier this year in Hawaii. Then he got COVID, which prompted a lot of back and forth vaccination controversy online, although he recently came out and said he was actually vaccinated. Whatever the details, the drama has put him in the headlines a lot lately. What has that done to Miles Teller's net worth?
Who Is Miles Teller?
Miles Alexander Teller was born in February 1987 in Pennsylvania. However, he grew up primarily in small town Florida. He is both a television and film actor, as well as a self-taught musician. In addition to drums, he can play piano, guitar, and saxophone.
IMDB reports that he has two siblings, Dana and Erin. Their mother, Merry Flowers, is a French-English family from New Jersey. Their father, Mike Teller, is of Russian Jewish descent as well as Irish and Polish ancestry.
He attended Lecanto High School, during which time he was a in a youth band. He graduated from there in 2005. Then he went on to get a BFA in Drama from the Tisch School of the Arts at New York University. He performed in his first film short while still in high school, in 2004's "Moonlighters."
Miles Teller's Acting Credits
Although he plays music, Miles Teller's net worth comes from his acting work.
Miles Teller Movies
After the 2004 short, he waited a few years, and then he was in a series of other movie shorts beginning in 2007. In 2010 he was in his first feature film role as Jason in "Rabbit Hole." From there, he went on to additional movies including:
Willard in 2011's "Footloose"
Miles in 2012's "Project X"
Sutter in 2013's "The Spectacular Now" for which he received a Special Jury Prize from the Sundance Film Festival
Miller in 2013's "21 and Over"
Then in 2014, he was really busy. He was in four films that year: "Whiplash," "That Awkward Moment," "Divergent," and "Two Night Stand." He was also in a short called "9 Kisses." "Divergent" was a very successful film series that contributed to Miles Teller's net worth. In 2015, he was its second movie, "Insurgent." There was also a video game short associated with that film. Then in 2016, he was in the third "Divergent" film called "Allegiant."
In those years, he also had roles in "Fantastic Four," "Get a Job," "War Dogs, " and "Bleed For This." In 2o17, he began to slow down a little. He was in two films that year, "Thank You For Your Service" and "Only the Brave." Then he didn't do any acting roles in 2018.
However, things are starting to pick up again for Miles Teller. He was in a Taylor Swift music video this year, which gained him a lot of media attention. He is also in films coming out over the next couple of years including:
2021's "Escape From Spiderhead" which is in post-production
2022's "Top Gun: Maverick" which is ready to go
A voice role in 2023's "The Ark and the Aardvark," which is currently filming
Roles planned in "The Fence" and "Not Without Hope," which are both in pre-production
Calculate Your Net Worth with Freshbooks
Miles Teller TV Roles
In addition to his movie roles, Miles Teller's net worth also comes from his television work. This began with one episode of "The Unusuals" in 2009. Then in 2012, he was on four episodes of "The 47th Floor." In 2019, he played Martin Jones in "Too Old To Die Young." Additionally, he plays the role of Albert S. Muddy on the TV mini series "The Offer," which comes out in 2022. 
Additionally, in 2016, he was on "The Tonight Show with Jimmy Fallo"n performing as a musician. IMDB also lists more than 60 other appearances as himself on shows like that. He's been on "Entertainment Tonight" multiple times in the past five or six years. Other examples include "Hollywood Insider," "Jimmy Kimmel Live!" and "The View=."
Miles Teller's Awards
Miles Teller really first got noticed with his award-winning role in "Spectacular Now," a film for which he also received several other award nominations. That wasn't his first time for a nomination though. He was nominated for a Best Supporting Actor in the Chlotrudis Awards in 2011 for "Rabbit Hole." Incidentally, they also had him nominated for Best Actor for "Spectacular Now."
"Whiplash" was the other film that got him a lot of award-worthy attention. He won the Odyssey Award for Best Lead Actor. Additionally, he also received several other nominations. He played the lead role in that film, which is interesting, since IMDB reports that he originally wanted to turn the role down to take some time off. You'll remember that was a very busy year for him as an actor!
Miles Teller's Personal Life
Miles Teller is married to model Keleigh Sperry. They dated for quite awhile and married in 2019. She is also an actress who appeared with him in the Taylor Swift music video. As aforementioned, he had drummed up some controversy because people were reporting that he hadn't been vaccinated for COVID-19. This controversy spilled over on to Taylor Swift with fans asking why she was including him when he hadn't been vaccinated. He eventually came out on Twitter and said that he is vaccinated, although that's personal information he shouldn't have to share. Miles and Keleigh have no children at this time.
What is Miles Teller's Net Worth?
Miles Teller's net worth comes primarily from his movie acting roles. Celebrity Net Worth reports that in 2016 he purchased a home worth about $3 million. They put Miles Teller's net worth at about $10 million. However, Wealthy Gorilla pinpoints it as closer to $14 million. Therefore, we can say with some confidence that Miles Teller's net worth is likely somewhere between $10 million and $14 million. We assume that means he's now paid off his student loan debt, which was a six figure amount.
Read More:

Kathryn Vercillo is a professional writer who loves to live a balanced life. She appreciates a good work-life balance. She enjoys balance in her relationships and has worked hard to learn how to balance her finances to allow for a balanced life overall. Although she's only blonde some of the time, she's always striving for total balance. She's excited to share what she's learned with you and to discover more together along the way. Learn more about her at www.kathrynvercillo.com.