Oprah has fallen out of the spotlight in recent years. After her talk show went off the air, fewer people were talking about her, but she hasn't really stopped producing or earning money. So, what is Oprah Winfrey's net worth now and what has she been up to?
About Oprah
Winfrey was born on January 29, 1954, in Mississippi. Her mother was an unmarried teenager at the time of her birth. There has been some speculation about who Oprah's father actually was. Vernon Winfrey is most commonly referred to as Oprah's dad. However, Noah Robinson Sr., a farmer and war veteran has claimed to be her biological father.
Shortly after her birth, her mother traveled north, leaving Oprah to live with her maternal grandmother, Hattie Mae. Though she was supportive of Oprah. Hattie was also reportedly abusive. When Oprah was six, she moved to Milwaukee with her mother, who was working as a maid. Because of her long work hours, Oprah did not get to spend much time with her mother.
Troubled Beginnings
Around the time Oprah moved up north, her mother gave birth to her half-sister, Patricia. Winfrey's mother was having a hard time supporting both young girls though, so Oprah wound up going to stay with Vernon, who she called dad. While she was in Nashville with her father, Oprah's mother gave birth to two more half-siblings. Patricia later died from a cocaine overdose and her half-brother Jeffrey died of AIDS in 1989. She did not become aware of her third sibling, who was adopted out of the family while she lived in Nashville, until 2010.
Oprah has come out and spoken openly about the abuse she suffered in adolescence. Starting when she was just nine years old, she was molested by several friends and members of the family.  At 13, Oprah decided to run away from home to escape that abuse and she became pregnant at 14. Her son, however, was born prematurely and died at birth.
As you know, that certainly wasn't the end for Oprah. She went on to attend Lincoln High School in Milwaukee and was transferred to Nicolet High School after success in the Upward Bound program. Because other people at her new school were better-off financially, she began to steal from her mom to try and keep up with her peers. Once it was discovered she was stealing, Winfrey was sent back to Nashville to live with her father once again.
There she attended East Nashville High School where she flourished. Winfrey became an honors student and joined the speech team. She was also voted Most Popular Girl in her class. After winning an oratory contest, she was given a full-ride scholarship to Tennesee State University. During high school, she also worked at a local grocery store and even won the Miss Black Tennessee beauty pageant. This eventually helped her gain the attention of WVOL, a local black-owned radio station. She worked there during her senior year of high school and first two years of college.
Television Career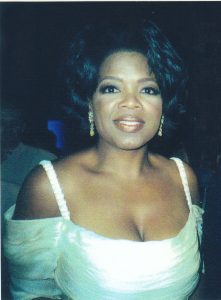 Photo: Alan Light
It is no surprise Oprah was paving the way for a huge career in television, at least it was no surprise to her grandmother. Hattie Mae often told stories of how Oprah would interview her toys and other family members as a child. At WLAC-TV, she was the first black female news anchor and she often went head-to-head with John Tesh, who worked for a competing station.
In 1976, Winfrey moved to Baltimore and began working with WJZ-TV. She was the co-anchor on the six o'clock news but was removed just one year later to cover lower-profile stories. It was then her attention turned to hosting talk shows. First, she joined the show People Are Talking as a co-host. She also hosted a local version of the show Dialing for Dollars. Then, in 1983, she moved to Chicago to host AM Chicago. At the time, it was the station's lowest-rated morning show.
Within just a few months, Winfrey completely turned the program around. It soon became the highest-rated morning talk show in Chicago. Roger Ebert, famed movie critic, persuaded Oprah to sign a syndication deal, which later became The Oprah Winfrey Show. The first episode under this new name was aired on September 8, 1986. The rest, as they say, is history.
More Than Just TV
From then on, Oprah's career absolutely exploded. She became a talk show host, inspirational speaker, magazine owner, producer, actress, author, and radio host. Winfrey also has a minority stake in the weight loss company Weight Watchers. Since her initial investment, her shares have increased from $34 million to $430 million. Another investment Winfrey has made has been into True Food Kitchen, founded by Andrew Weil.
After seeing her success on-air, Winfrey decided to invest in herself too. She went on to create the Oprah Winfrey Network, which gave way to numerous television shows and talk shows. On top of that, she has also created O Magazine and has co-authored five books.
What's Oprah Up To Now?
Oprah is continuing to produce content and stays engaged with her fans to this day. She regularly updates her social media pages. With more than 19 million followers on Instagram, she still has a huge amount of reach. Not to mention, if she is receiving any money from paid ads those followers add up quickly.
Outside of social media, Winfrey is constantly working on podcasts and producing something for her audience. She hosts a few podcasts, which you can find on iHeart Radio, Spotify, and Apple. Her most popular podcast currently is Super Soul. You can also listen to The Oprah Winfrey Show: The Podcast. 
In December 2020, it was announced that O Magazine would no longer be printing copies. However, fans of the publication are still welcome to read online at Oprah.com. Her website gives access to magazine articles, book club books, and a number of other things. It averages more than 70 million page views per month and receives over 20,000 emails every week. So, it is safe to say Oprah is keeping busy.
Oprah Winfrey's Net Worth
Photo: Vic
In 2021, Oprah Winfrey's net worth sits comfortably at $2.5 billion. Of course, much of this wealth has stemmed from the projects mentioned above, but Winfrey has made some pretty great investments too. Not to mention, she has also helped kick-start the careers of a lot of successful people. All of this helps her brand and, ultimately, her wealth.
As mentioned above, Winfrey has a huge stake in Weight Watchers. She also has a large stake in the OWN cable channel. Her stake in OWN is reportedly worth $65 million. There have also been a number of contracts that have led to an increase in wealth for Winfrey as well. For instance, in 2018, she signed a multi-year deal with Apple to produce content.
Relationships and Assets
Oprah Winfrey has never been married, but her life has not been without romance. In her early career, Oprah was rumored to have dated a number of different men. Her longest-standing and the most well-known relationship has been with Stedman Graham. She and Graham have been together since 1986 and were engaged to be married. The ceremony has never taken place though.
Gayle King is another name that is associated with Winfrey on a regular basis. King is Oprah's best friend and there have even been rumors about the pair being in a relationship. Winfrey has denied such rumors though, stating if she was gay she wouldn't be afraid to admit it.
When the few people close to Oprah get to visit her, they often visit her home, which she has named "The Promised Land." The home is valued at more than $52 million and certainly contributes quite a bit to Oprah Winfrey's net worth. Oprah also owns a $13 million home in Vancouver. She's known for riding around in her Mercedes E-class coupe, valued at around $60,000.
Read More
Amanda Stewart is a 24-year-old full-time website manager and blogger. She is currently hacking her debt by saving money and investing, all while trying to kickstart a family and enjoy her adult life. In her free time she enjoys spending time with friends, entertaining (throwing parties), reading, doing puzzles and kayaking.