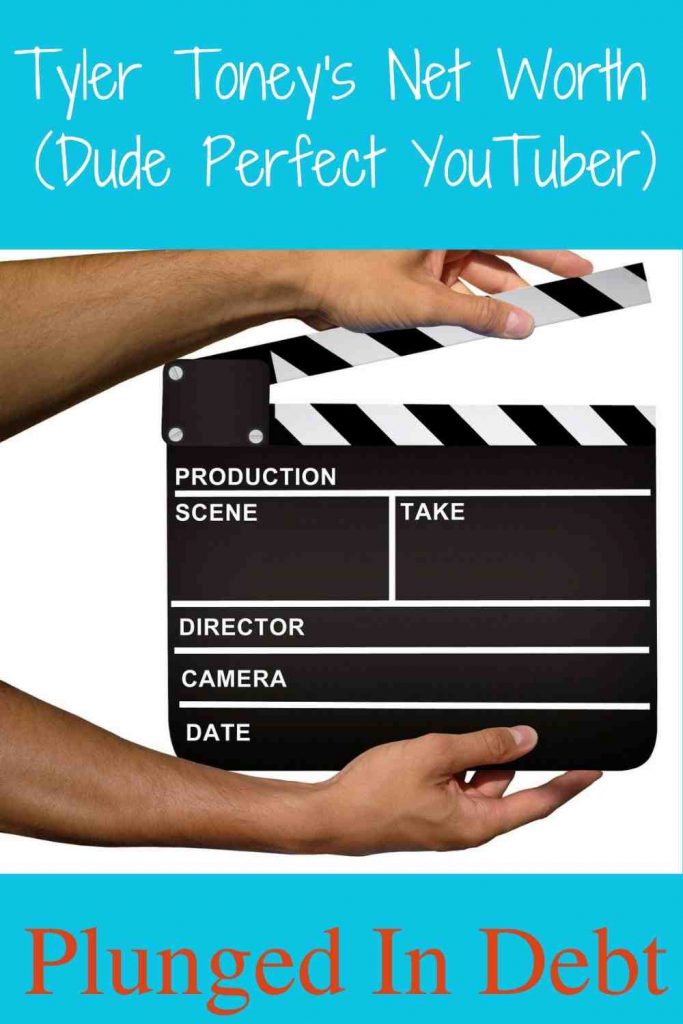 Dude Perfect is one of the most popular YouTube channels today. In fact, it ranks among the Richest Youtubers of 2021. However, Dude Perfect consists of 5 members. Therefore, each of them has their own net worth. For example, you might wonder about Tyler Toney's net worth.
Who Is Dude Perfect?
As aforementioned, Dude Perfect is the name of a group of five guys who share a YouTube channel together. It's a sports and comedy channel. Or as they describe themselves on the YouTube About page, it's "5 best buds just kicking' it." They're doing more than just kicking' it though. Although Dude Perfect's net worth isn't exactly clear, it's somewhere between $30 and $50 million. They're obviously working hard to create content that does well on the site.
How It All Began
According to Inspire My Kids, the five guys of Dude Perfect met at Texas A&M University. They're all sports fans who are also faith-based individuals. And they hit it off so well they decided to all be roommates. So Tyler Toney moved in with Coby and Cory Cotton, Garrett Hilbert, and Cody Jones.
They had a lot of fun playing around together, including working on basketball trick shots. One day in 2009, according to Looper, Garrett bet Tyler that he couldn't make a particular trick shot. He lost the bet, had to give Tyler his sandwich, and they had their first YouTube video. It was a hit, receiving over 200,000 views in the first week. This prompted a phone call from "Good Morning America," which set the Dude Perfect team off and running with their YouTube channel.
According to Wikipedia, their success also had a lot to do with their smart choice for their second video. They pledged that they would sponsor one child from Compassion International for every 100,000 views on that video. It quickly received millions of views. And that prompted a phone call from "ESPN." The rest is history.
Dude Perfect YouTube Views
Dude Perfect has over 56 million YouTube subscribers. Their videos have 13,573,305,228 views. One video that they launched this week called World's Smallest TV already has 5,521,212 views. 10 million views on new videos isn't uncommon. And videos that have been up for a couple years often have between 200 and 300 million views each.
Collaborations and Sponsorships
Obviously, some of Tyler Toney's net worth comes from the ads on those YouTube views. However, Dude Perfect has also done well with collaborations and sponsorships that boost their profits over their years. In fact, the aforementioned World's Smallest TV video was sponsored by Nickelodeon All Star Brawl.
Sports Team Collaborations
According to Wikipedia, some of Dude Perfect's collaborations and sponsorships include work with:
Tyreke Evans of the Sacramento Kings
Aaron Rodgers of the Green Pay Packers
Chris Paul from the NBA
Russell Wilson (quarterback) and Pete Carroll (coach) of Seattle Seahawks
Ryan Tannehill of Tennessee Titans
Multiple Nascar drivers as well as at least one IndyCar Series driver
Odell Beckham Jr. of Cleveland Browns
Tennis player Serena Williams
Boban Marjanovic of Dallas Mavericks
And many more. They've worked with a variety of sports stars from many different sports on a bunch of different projects.
Sponsorships
According to Looper, just a few of the group's sponsors include:
Bass Pro Shops
Fiat
NERF
Pringles
As you can see some big brands are interested in working with the group. And obviously that helps boost Toney Tyler's net worth.
Other Collaborations and Business Ventures
Dude Perfect has also worked with singers such as Tim McGraw and Luke Bryan. This year they also released their very first song of their own. The group has also worked with actors like Paul Rudd and Zac Efron. They've been on television on CMT and Nickelodeon. They've also released a documentary in collaboration with YouTube Originals.  Dude Perfect has two YouTube channels in addition to their main one. They've created mobile phone games.
And according to Wikipedia they hold 15 world records for their amazing trick shots which, although often questioned, are reportedly all real. While technically that alone doesn't boost Tyler Toney's net worth, it lends credibility and interest to the group, which in turn increases everyone's income.
Who Is Tyler Toney?
Obviously, Tyler is one of the five Dude Perfect members. But who is he? Well, he was the one who was in on the original bet that got Dude Perfect started. But of course he's more than that as well. Obsev reports that Tyler, born in 1989, is the youngest of the group even though many people seem to think of him as the group's leader.
In reality, each member has their unique roles. Garrett, for example, is the main finance guy for Dude Perfect. Tyler Toney has natural leadership skills so people often assume that's his role. Moreover, Looper reports that he's usually the one doing the trick shots, which makes him one of the most recognized faces of the group.
Early on, Tyler Toney was the one who suggested that they go for a world record. He was sure that if they could get a key to Texas A&M's Kyle Field, that he could make a shot from the stadium's third deck down a basketball hoop set cup on the football field. He was successful with the shot, making their first world record with "the world's longest successful basketball shot."
Toney is married to a woman named Bethany, with whom he has three kids – Barrett Nathan, Colton James and Rhett Silas. They also have two dogs named Sadie and Annie. Bethany Toney owns a cookie company that contributes to the family's finances.
What Is Tyler Toney's Net Worth
It's always really hard to determine YouTube celebrities' net worth. Reputable sources across the web claim that Dude Perfect's total net worth is somewhere between $30 million and $50 million. Obviously, that's a huge range. And we have no idea how the group splits that money. If they're on the high end and split it evenly, then Tyler Toney's net worth is about $10 million, right?
Celebrity Net Worth places the group's net worth at that high end. They cite earnings of $20 million in 2019 and $25 million in 2020. As a result, they put the group's total net worth at $50 million in 2021. So, that would lead to the guess that Tyler Toney's net worth is $10 million.
However, MD Daily Record puts Tyler Toney's net worth as $25 million in 2021. Wealthy Persons says the same thing. However, Legit reports that Tyler Toney's net worth is just $6 million. The source agrees that Dude Perfect earns about $25 million per year. And yet, they say that Toney's current net worth, which comes from independent commercials as well as his Dude Perfect earnings, is $6 million.
So, Tyler Toney's net worth is somewhere between $6 million and $25 million. If Dude Perfect is worth between $30 and $50 million, we think it's likely that he's worth between $6 million and $10 million.
Read More:

Kathryn Vercillo is a professional writer who loves to live a balanced life. She appreciates a good work-life balance. She enjoys balance in her relationships and has worked hard to learn how to balance her finances to allow for a balanced life overall. Although she's only blonde some of the time, she's always striving for total balance. She's excited to share what she's learned with you and to discover more together along the way. Learn more about her at www.kathrynvercillo.com.