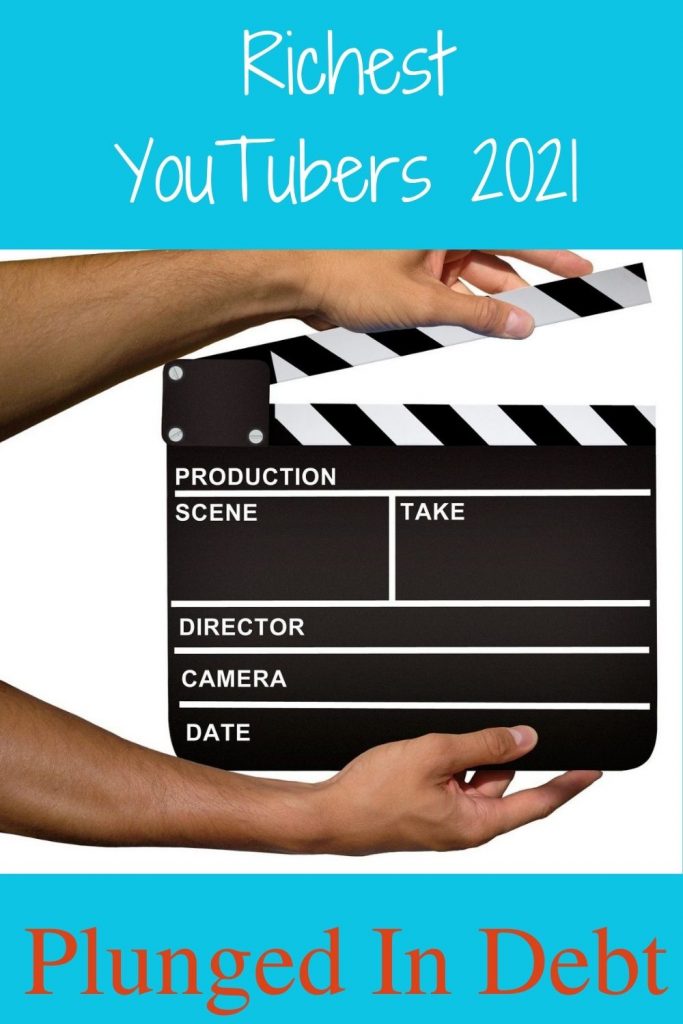 You can make a lot of money through YouTube. Of course, it's not easy to become a YouTube millionaire. For every one out there are thousands, maybe millions, of YouTubers who make little to nothing on their accounts. However, if you want to get rich on YouTube, then sometimes it can help to look at those who do succeed. After all, watching how those accounts make money can give you ideas of your own. So who are the richest YouTubers of 2021?
What Does It Mean to Be The Richest YouTubers in 2021?
We scoured the Internet for information about the richest YouTubers in 2021. Using information published online between February 2021 and early July 2021, we discovered that there are a range of different rankings for Richest YouTubers 2021. Although most of the lists have similarities, they definitely aren't all the same. So, what accounts for the differences?
Well, there are lots of different reasons that one list might differ from another. But the two main ones are that it depends a lot on what you're factoring in to consider someone among the Richest YouTubers 2021. Some lists look specifically at the person's net worth. Others look at the annual income generated from the income. Plus sometimes you have outliers like a list that might include someone who earned the most for a single video. So, no list is all-inclusive / definitive.
Moreover, most lists only include people who make a majority of their income from YouTube itself. Or at the very least, a large portion of it. However, some lists include people of high net worth who only have YouTube as a small side income. For example, John Green is best known for authoring "The Fault in Our Stars." However, only a tiny portion of his $17 million net worth comes from YouTube.
With all that said – after comparing and contrasting 5 top lists, we've come up with what we think is the best list of Richest YouTubers 2021. The lists we compared came from: Wondershare Filmora, CommonCentsMom, Gulf News, Slice, and Pressfarm.
40 Richest YouTubers 2021 by Net Worth
Combining the information from all of those lists, we came up with a list of the 40 richest YouTubers by net worth.
Figuring Out a YouTuber's Net Worth Isn't Always Simple
Sometimes all sources agreed on a person's net worth. For example, everyone lists Jeffree Star as having a net worth of $200 million. Similarly, multiple sources agree that Ninja has a net worth of $25 million.
In other cases, there are tiny discrepancies. For example, sources sometimes list Jake Paul at $19 million but other times as $20 million. In a few instances, there are huge discrepancies. For example, Dude Perfect's range is from $30 – $50 million although most sources will shoot for the middle and say $40 million. And then consider DanDTM; most sources say his net worth is between 35 – 40 million. However, Slice lists it as just $18.5 million. This is in spite of the fact that Slice's numbers are comparable to other sources on many other of the Richest YouTubers in 2021.
Highest Net Worth YouTubers 2021
In any case, here's what we came up with as our list of the top 40 richest YouTubers 2021, by net worth. The image below shows the Top 10. However, you can also click on the image below to go to a PDF that shows the list in more detail:
Here's the top 40, including their net worth and a brief description of what their YouTube channel is all about:
Jeffree Star: $200 million, beauty/makeup channel
Daniel Middleton of DanTDM: $35 – 40 million ( although Slice says only $18.5 million), gaming channel, particularly known for MineCraft videos
Ryan Kaji of Ryan's World (formerly RyanToysReview): $32 – 50 million (although Gulf News says $80 million), unboxing and toy reviews
Rhett McLaughlin and Link Neal of Rhett and Link: $32 – 40 million, comedy/talk show channel
Benny and Rafi Fine of FBE: $32 million, varied content including sitcom
Felix Kjellberg of PewDiePie: $30 – 50 million, mostly gaming along with comedy and some other content
Dude Perfect (note that there are five member so it's divided between them): $30 – 50 million, sports channel
Andre Willem Benz of Trap Nation: $30 million, music channel
Mark Edward Fischbach of Markiplier: $28 – 35 million, gaming channel with some comedy content
Evan Fong of VanossGaming: $25 million, gaming channel
Tyler Blevins of Ninja: $25 million, gaming channel
Lewis George Hilsenteger of Unbox Therapy: $24 million, unboxing and tech reviews
James Charles: $22 – 25 million, beauty/makeup channel
Troom Troom: $21 million, crafty/DIY and recipes channel
Nastya (also known as Like Nastya): $20 million, unboxing and reviews channel
Jake Paul: $19 – $20 million, comedy, pranks, controversy, music and more
Preston Arsement: $19 – $20 million, gaming and pranks channel
Logan Paul: $19 million, similar content to brother Jake Paul above
Rosanna Pansino: $18 million, baking/cooking channel
Collins and Devan Key: $17.5 million, comedy channel
John Green: $17 million, author of "Fault in Our Stars"
Jimmy Donaldson of Mr. Beast: $16 – 24 million, gaming and challenges channel
Lilly Singh of IISuperwomanII: $16 – $20 million, comedy and commentary channel
Stevin John of Blippi: $16 – 17 million, children's content channel
Ian Hecox and Anthony Padilla of Smosh: $15 – 20 million, comedy as well as other content
David Dobrik: $15 – 20 million, daily life vlogging
KSI: $15 million, music
Roman Atwood: $14.5 million, daily life vlogging
Matthias Fredrick of Hi-5 Studios: $14 million, all-ages, multi-content across multiple channels
Zoe Sugg and Alfie Deyes of Zalfie: $12 million (combined), her content is lifestyle/beauty while his is gaming/ daily life vlogging
Bright Side: $10.1 million, trivia and tips channel
Ryan Higa of Nigahiga: $10 million, comedy channel
Emma Chamberlain: $8 million, comedic daily vlogging known for her own original style to content creation
Liza Koshy: $6 million, an actress and comedienne who started on YouTube
Nikkie de Jager of Nikkie Tutorials: $6 million, beauty and makeup channel
Alia Marie Shelesh of SSSniperWolf: $6 million, gaming and reactions videos channel
The Try Guys: $6 million, comedic challenges content
Shea and Syd McGee of Stuido McGee: $5 million, interior design channel
Mark Wiens: $4.7 million, travel with an emphasis on food
Babish Culinary Universe: $4 million, cooking channel
How Many YouTubers Have a Net Worth Over $10 Million?
As you can see, 32 YouTubers have a net worth of $1o million or more. And at least 15 of them have net worth exceeding $20 million. Jeffree Star by far and away has the largest net worth at $200 million. PressFarm reports that he earned $18 million on YouTube alone in 2018.
Highest YouTube Earnings 2021
We don't have a comprehensive list of the YouTube earnings for all of our Top 40 Richest YouTubers in 2021. However, Wondershare Filmora compiled a Top 10 list. As you can see, we've added that to our aforementioned PDF. Here's that Top 10:

According to their list Daniel Middleton of DanTDM currently has the highest earnings at $16.5 million. And as you can see, everyone on the list is earning more than $10 million. PewDiePie, Markiplier, and Logan Paul are all in the middle with earnings of $12.5 million each. And it's not too shabby for Lilly Singh to bring up the rear at $10.5 million in earnings.
Read More:

Kathryn Vercillo is a professional writer who loves to live a balanced life. She appreciates a good work-life balance. She enjoys balance in her relationships and has worked hard to learn how to balance her finances to allow for a balanced life overall. Although she's only blonde some of the time, she's always striving for total balance. She's excited to share what she's learned with you and to discover more together along the way. Learn more about her at www.kathrynvercillo.com.