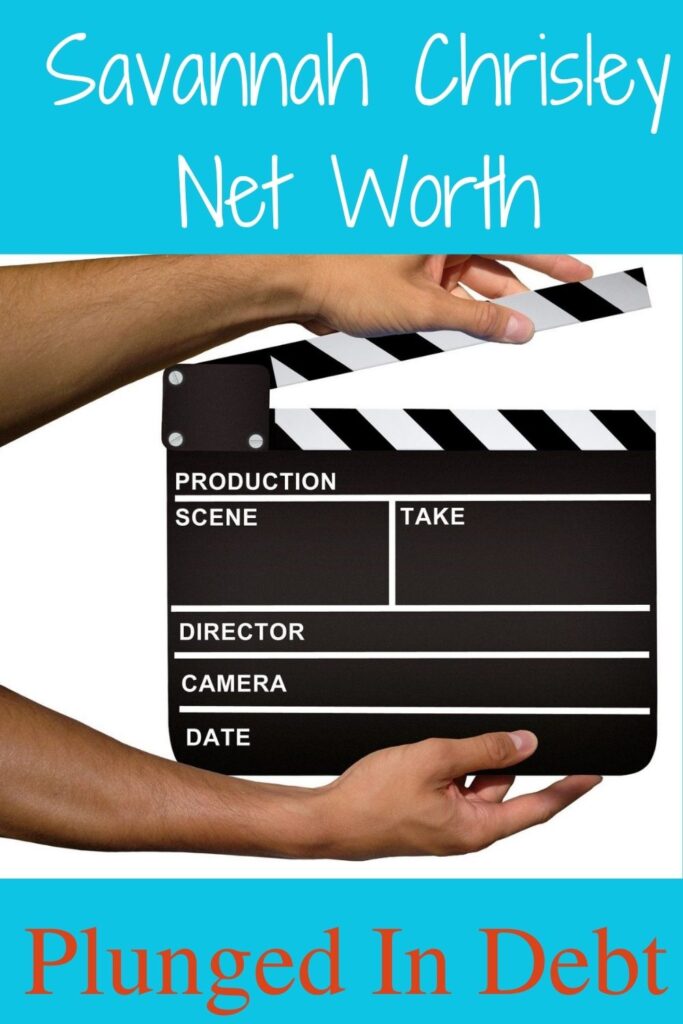 Savannah Chrisley caught the world's attention as a teenager when her family show, "Chrisley Knows Best," began to air on reality tv. She went on to star in her own spinoff show with one of her brothers. She's also acted elsewhere and works as a fashion blogger. What is Savannah Chrisley Net Worth?
Who is Savannah Chrisley?
Not too long ago we wrote about Todd Chrisley, the father and real estate mogul who is the subject of the reality TV series "Chrisley Knows Best." As we mentioned there, he has three children, who, of course, have also been stars of the family show. Savannah Chrisley is his only daughter. She has two brothers, Chase and Grayson. She was 15 in 2014 when they began filming "Chrisley Knows Best." Later, she ended up starring in a spinoff show with Chase. And she's since gone on to leverage her reality television celebrity to add to the Savannah Chrisley net worth through social media. She works as a fashion blogger and has a beauty line called Sassy by Savannah.
Savannah Chrisley's Childhood
The List has a great article about Savannah Chrisley's growth over the years. The article explains that the middle child was born in Atlanta, Georgia, into a loving home where she was particularly close with her grandfather who sadly passed away she was 15. She loved horseback riding and her grandfather was always there to support her in that before he died. He died the same year that the family began to film "Chrisley Knows Best." Savannah still rides horses, though, calling this her form of therapy.
Savannah on  "Chrisley Knows Best"
Savannah was 15 when the show began airing in 2014. Some children on reality TV family shows leave the show as they get older. We've seen that with Jill and Jessa Duggar as well as most of the "Little People, Big World" cast. However, The "Chrisley Knows Best" has been on the air for 7+ years, and Savannah's still participating in filming. She's also been part of special events such as 2021's "Chrisley Knows Thanksgiving" TV movie special.
In those early days, Savannah was just a teenager trying to find herself. The List says that she struggled with the challenge of forming her identity while on camera. It forced her to grow up quickly, in ways both good and bad, according to the article. In the first season, she participated in beauty pageants, and she succeeded in winning the title of Miss Tennessee Teen USA 2015. The following year she made it to the semi-finals of the Miss Teen USA Pageant.
In terms of growing up quickly, 2017 was a big year for her. She went off to college, she was in a major car accident, and she launched her first business, a clothing line called Faith Over Fear. (Faith is her middle name.) She was only 19 at the time, and she debuted the clothing line on HSN.
Savannah on "Growing Up Chrisley"
In 2019, Chase and Savannah teamed up for their new spinoff show, "Growing Up Chrisley." Todd has made his money in real estate and business. The premise of the spinoff show is that the siblings are going out into the world to show Dad that they can make it without his help.
Initially, they had three months to succeed, moving to LA for just a short time. Chase planned on getting into acting and Savannah wanted to work in cosmetics. The show has aired for three seasons so far. However, she didn't stay in LA past that initial season, preferring her hometown of Nashville.
Savannah in Fashion and Cosmetics
The show helped Savannah grow her own endeavors as a fashion blogger and influencer and a cosmetics seller. She has about 2.4 million Instagram followers on her primary account. She mentions in the bio how to reach her for collars. Presumably, then, these days a decent amount of Savannah Chrisley net worth comes from working as an influencer.
This Instagram account also links to her cosmetics company's account, Sassy By Savannah, which has almost 200K followers. Over on the company's website, we learn that she offers "cruelty-free, vegan, paraben-free" make-up and skincare products.
Over the years, Savannah has continued to work in fashion, as a blogger and influencer as well as through launching her own lines. In 2019, she launched her second line (following the Faith Over Fear line.) This one was a successful collaboration with Rampage.
Savannah Chrisley Relationship History
Savannah was barely out of her teens when she got engaged to Nic Kerdiles, an NHL hockey player. The couple planned a long engagement, and they kept pushing it back. Then, they broke up. So, she has never been married. Recently, Nic has been dealing with a suicide attempt. Reports indicate that despite their breakup over a year and a half ago, Savannah was with him at the time that they called 911 to help him. She and her father have both been supportive of Nic in his recovery, sharing their social platforms with him as a place where he can have a voice to express himself about all of this.
What is Savanna Chrisley Net Worth?
As of August 2021, Life&Style reported Savannah Chrisley net worth at about half a million dollars. However, in November 2021, Distractify quoted her net worth at closer to a full million dollars. As of January 2021, a site called filmysiyappa reports that she earns about $100,000 per year and has a net worth of $1 million. Exact Net Worth says that as of early 2022, Savannah Chrisley net worth is $1.5 million. So, what is it? It's always hard to tell with reality television stars since their money comes from show episodes at usually-undisclosed rates as well as from social media earnings. We're going to guess based on all of the different sources that her net worth is likely around the $1 million mark.
Read More:

Kathryn Vercillo is a professional writer who loves to live a balanced life. She appreciates a good work-life balance. She enjoys balance in her relationships and has worked hard to learn how to balance her finances to allow for a balanced life overall. Although she's only blonde some of the time, she's always striving for total balance. She's excited to share what she's learned with you and to discover more together along the way. Learn more about her at www.kathrynvercillo.com.